Google Will Remove All Blogger/Blogspot Sites that Uses Adult Content for Monetization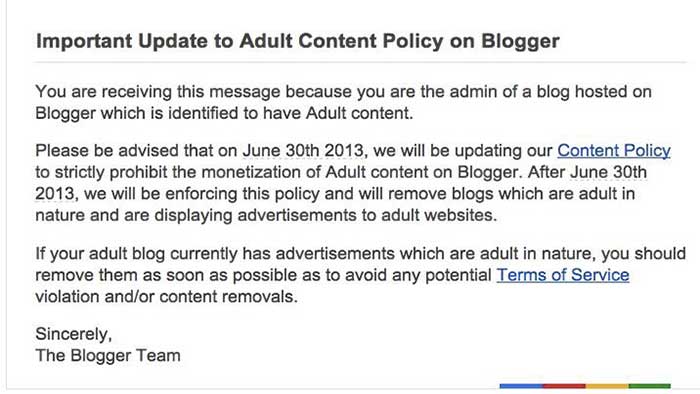 Today, Google sent an email to Blogger/blogspot users that their site will be removed from the blogger at the end of this month (June 30) if they don't remove the adult contents and adult advertisements.
Google is going to change the Blogger's content policy at the end of this month. Hence that, It has sent an email to all blogger admin about this change that violates future content policy so that they can do necessary changes to their blog to stick to the new Policy. Google's current policy allows users that they can post adult images and videos like nudity and sexual activity.
Also Read: 25+ Best Free Blogger Templates Free for 2013(Magazine,sports,News,Tech)
You can see the screenshot of the email describing the changes and obey the new content policy of blogger. If the user doesn't obey the new rules, Google will remove the blogs.
Google is preparing to cleanse their blogger service with this new content policy updates. Also, Google is not allowing blogger users to monetize their blogs with Adult advertisements. So it is not clear that Google will remove the blogs that hosting  'Adult' adverts or publishing Adult contents.
The deadline is very less for blogger admins to follow this new rules, that week or so to update their blog with a new policy, unless face the removal process. Before Google removing their blogs, blog owners can back up their entire blog to save their content.
How to Backup the Blogger/Blogspot Blogs
To backup your Blogspot blog follow the below steps,
 Go to Blogger dashboard > Settings > Other

In Blog Tools section, click the export blog link to export your entire blog.
Now you can use this data to migrate to other blogger services.
How to save your Blog
Just remove the Adult advertisements and other Adult related contents

Follow the New Blogger Content Policy before June 30