5 Best Free Antivirus Apps for Android [Security Review]
Android has the largest market share in the Smartphone Market. This high-level of popularity gives the opportunity to hacker to target the Android users with many security threats. The common malware, phishing and annoying adware are the major concern for Android users. You have to protect your personal and sensitive data from these security threats.
To protect the Android users, Antivirus companies have launched their Mobile Antivirus apps. Most of the best Antivirus apps for Android phones are available free of cost in the Google play store.
The free versions also have subscription based premium protection, barely it costs you to $30 for a yearly subscription. However, the free antivirus apps will be done the protection job for you without any lack in security.
Here, We've reviewed the best 5 free Antivirus Apps for Android to take control of your device and protect from security vulnerabilities.
Also Read : 5 Best Apps To Track or Locate Stolen / Lost Android Phone
Read: Kill the Android Trojans Using the Stubborn Trojan Killer App
1. Trust Go Antivirus & Mobile Security App for Android
Trust GO is the Best free Antivirus Android app in terms of protection and usability. This security app got the first place in AV-Test with 100% protection rate for Android mobiles.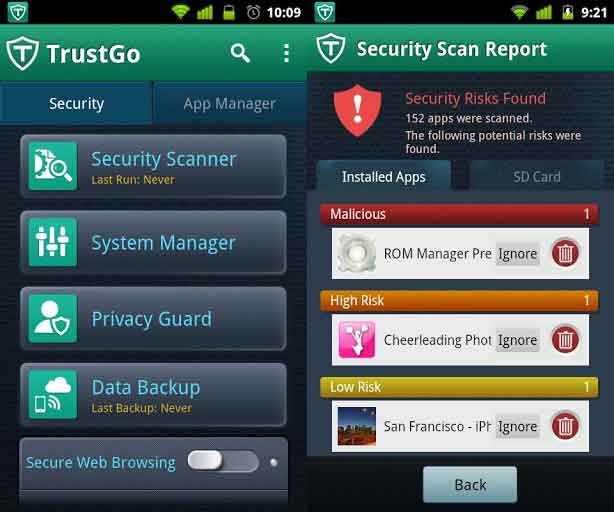 Protection :
Trust Go provides the robust protection for your Android Devices. It gives you the 100% protection from Malicious Android apps and threats. This free antivirus app protects you from today's most dangerous malware and viruses PLUS apps that can steal your personal privacy, identity and data.
Usability :
This app has the better usability rate in AV-Test. Trust Go will not reduce your battery life. Your Android phone will run smoothly whenever you use this Antivirus app. This app scans and finds the threats effectively. Unlike other security apps, it won't generate any false security alert or notification when you install legitimate apps.
Features :
Security Scanner – Provides On-demand Scan and Schedule scan. By choosing this scan option, you can scan mobile phones, tablets, memory cards to find and remove Virus, Malware, Spyware and trojans PLUS risky apps.
Secure App Search – Has SAFE ( Secure App Finder Engine) to search and download apps that are safe. TrustGo alerts you before downloading bad and risky apps.
Secure Web Browsing – you will get a notification, When you have open the malicious and phishing sites in your mobile. Supports Default Android Browser, Google Chrome and Dolphin Browser.
System Manager – You can track your phone's data usage, battery consumption and memory usage.
Privacy Guard – protects your privacy by showing the permissions, you have given to the apps in your mobile.
Data Backup – Store, backup and restore your phone's data securely in the cloud.
Device Protection – Remotely locate your phone (Find My Phone), lock it, set off an alarm, or securely wipe your data and personal information if your phone is lost or stolen.
2. AVL by Antiy Labs
AVL is the mobile antivirus product from Antiy Labs. This security app got the second place in AV-Test with 100% protection rate for Android mobiles.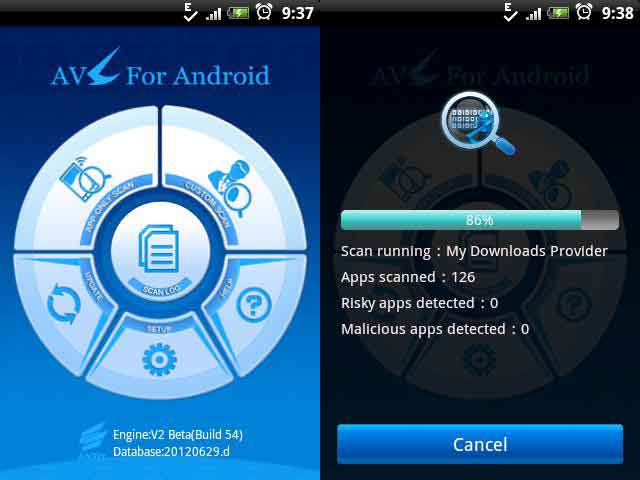 Protection:
AVL mobile Antivirus provides the basic functionality of virus scan and protects your Android phone from the malicious Android apps. AVL SDK Mobile provides abundant configuration options of detection switch which scan the malicious codes of smart phones at different levels, through which can balance the scan speed and detection capability.
Usability:
AVL SDK mobile Antivirus also works like TrustGO, but it generates false notification when Genuine App installation in the Android mobile in AV-Test.
Features :
This app hasn't provide any Advanced features like Anti-Theft (Remote-Lock / Remote-Wipe / Locate): Locate, Lock or Wipe your device when it is lost or stolen. It simply provides the Virus detection and removal tools for you.
Comprehensive Detection: AVL SDK Mobile Antivirus scans many file formats that include APK, SIS, SISX, XAP, and CAB. It can also detect executable files such as DEX, ELF, EPOC and PE.
Efficient Detection : It has efficient virus detection algorithms, that works much faster than any other device with less power and basic resource. So it won't reduce your battery power while scanning the system.
Strong Support System: This app can analyze more than 10,000 samples per day and provide 24*7 signature update services. So your mobile will have latest detection capability of malicious codes.
3. Bitdefender: Mobile Security
Bitdefender Mobile Security provides the total protection for your Android device. It effectively scans and remove the virus, prevents data theft and Tracks your phone against theft. You can download this for free of cost, but you have to subscribe for $9.99/year after 14 days trail.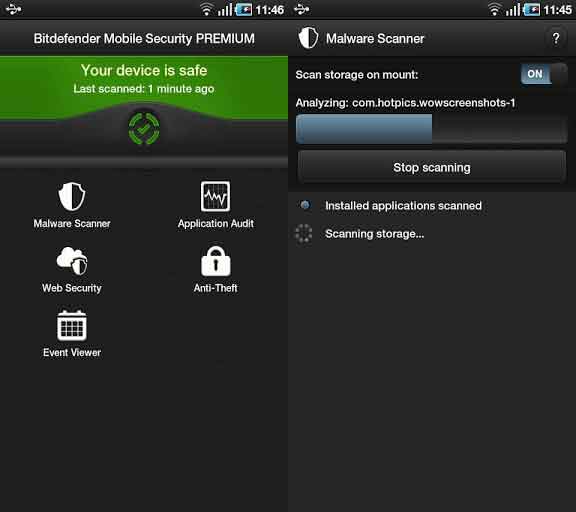 Protection :
AV-Test results show that It gives you 100% protection against viruses and from malicious Android apps. So it will keep your device, your information, and your privacy safe!
Usability :
In AV-Test, this app slows down the Android mobile in the normal usage. Apart from this, it doesn't impact the Android's battery life, and it doesn't trigger the false alert when the genuine App installation.
Features:
Malware Scanner – Bitdefender protects you against from 99.8% malware programs.
Application Audit – If any app try to install in your device without your knowledge, Bitdefender will alert you about this
Web Security – When browsing websites using Chrome and Android's default browsers, it gives the real-time protection.
Anti-theft – Bitdefender has the bunch of tools to send SMS Commands, Lock, Track and Wipe your Data if your mobile is lost or theft.
4. Lookout Security and Antivirus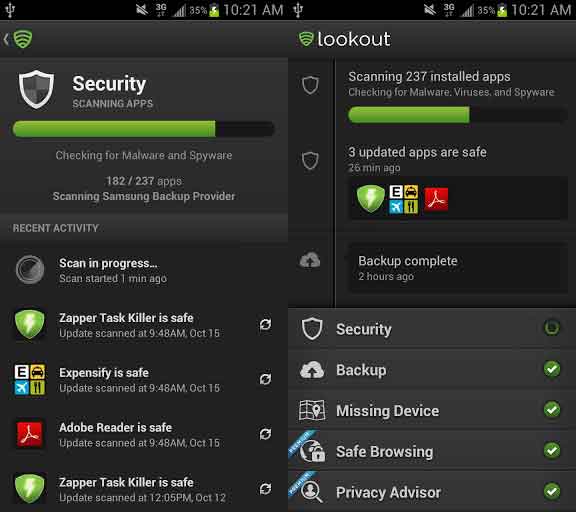 Lookout protects you against all the bad stuff that can happen to your phone or tablet, like viruses, loss, and theft. Lookout gives you the best chance at finding your lost phone or tablet.
You can find your phone on a Google Map, and make it scream if it's on silent, and see your phone's last known location. You can also get an email with picture and location of anyone who tries to unlock your android device.
You can get security, backup and Android Phone locator in single App.
Premium Service : $2.99/month Antivirus package
Protection :
According to AV-Test, Lookout Mobile security gives the 99% protection for your phone or tablet from bad stuff like malware & viruses , loss, and theft.
Usability :
It scores 100% usability in Antivirus test.
Features :
SECURITY & ANTIVIRUS : Lookout protects you from the bad stuff – like malware and viruses – that can slow down your phone or make unauthorized charges to your wireless bill with over-the-air, real-time updates. It removes viruses and spyware from the apps, Email attachment and system files. It has schedule scan feature to scan you phone with the predefined time.
Find My Phone : Lookout gives you the best chance to find your lost or stolen Android phones and Tablets.
BACKUP & RESTORE : Lookout backs up all your personal data such as Contacts,documents from your phone to online cloud. You can easily restore it from Lookout.com
5. Avast! Mobile Security
Avast! mobile security gives you the better protection. It scans your phone and memory card and removes the Bad stuff and has the USSD Blocker Protection.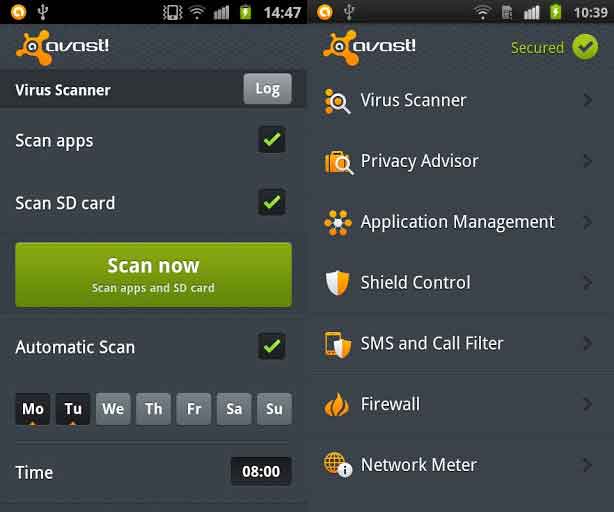 Protection:
AV-Test report shows that Avast protects your Android device from 98% of threats.
Usability :
Avast! mobile security drains your battery when it runs on your Android phone. You can do regular tasks with this app, it won;t slow down your device.
Features :
Antivirus : It scans the apps when you launch it first time. Other than this, It performs on-demand scans in your phone and SD Card.
Web Shield & Site correct: It includes USSD Blocker and scans every URL and blocks it if the URL is Infected. it corrects the mis-typed URL.
SMS/ Call Filtering : It blocks the calls and SMSes, if it comes from the filtered contact, you have already selected.
Anti Theft : Gives you remote control via SMS or Web (cell phone tracking, activate siren, memory wipe, etc.).