Automatically Download & Load YouTube Videos Faster in Your Android Device + More
Paul the app is the new Android App from Google Play that downloads videos from your Favorite YouTube Channels, ESPN ScoreCenter, CNN, Facebook, Twitter, and Last.fm from background. And No More Annoying Buffering.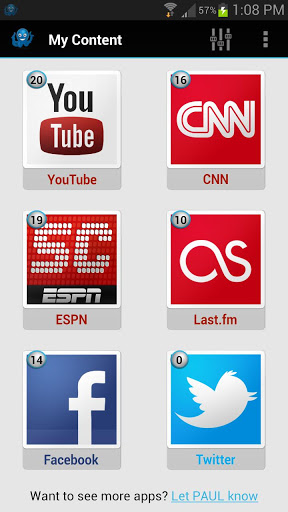 This App download videos in the background before you load that , so that you can make YouTube videos faster on Your Android phones. Also, you can get faster videos from more services such as ESPN,Facebook..
How it Loads YouTube , Facebook Videos Faster in Android
PAUL  obtains your preferences and creates your personalized profile, To get you the  most relevant videos and music you want.  PAUL will preload the videos and songs you want BEFORE you want them in the background, so there are no delays when you want to view them.
Plus this app will update you about the latest videos available in the home screen.  This Android app also has the options to  control how many videos, it should download from every channel and how long they should be cached.
PAUL downloads all videos suing WiFi only, incurring no data charges.
This app is fantastic for video lovers, if you want to download the videos for offline viewing. Paul the App is available for free on Google Play.
Download Paul the App Free
Also Read :Top 5 Best Android Apps for Live TV Shows and Watch Movies free