Best Free YouTube App for Windows 8 "MetroTube" Released, Download Now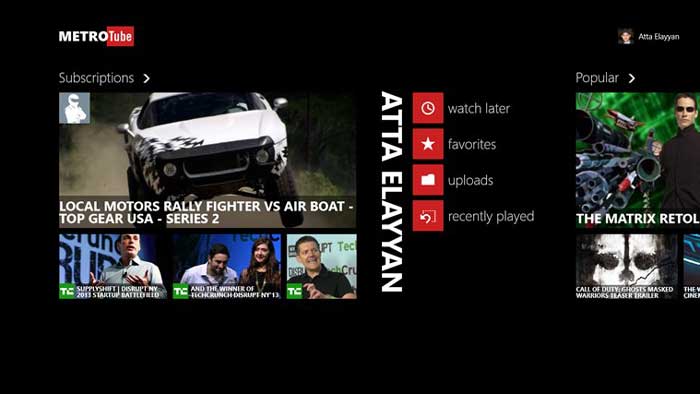 Google hasn't developed Official YouTube app for Windows 8 and also said that they have no plan to develop any Windows 8 YouTube app in the Recent future. Microsoft's Windows app store has only third-party YouTube Apps for Windows 8 YouTube users. I've also searched for the good YouTube client for my Windows 8 Tablet. I have tested many apps and found the best free YouTube App named 'MetroTube'.
Recommended Read : Top 20 best Windows 8 Apps – MUST HAVE
MetroTube is top rated YouTube app on the Windows Phone Store. The developers of MetroTube have released the desktop version of this app in the Windows App store. MetroTube is the best free YouTube App for Windows 8 which is beautifully designed YouTube Client .
MetroTube gives the much more pleasant and flexible user interface to YouTube. You will get a different experience when watching the YouTube Videos in this app.
"Watch the Full HD videos while you browse the web in Single Screen in MetroTube"
To get the best out of this app, you have to log-in to your YouTube Account to get all features of Google's product. The home screen of this app has four tabs such as Watch later, Favorites, Upload and Recently Viewed. First three tabs will function only after you log-in to the YouTube. If you have marked the video in the YouTube site as favorite, you can get all those videos in the Favorite tab. Like that, Favorites and Upload tab will function in this app.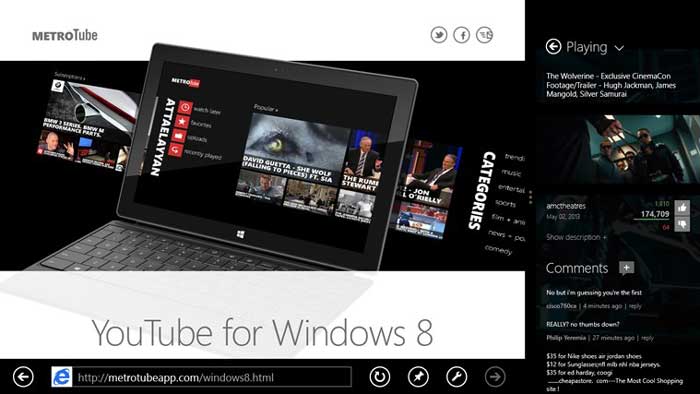 In the home screen, this app also shows the videos in the categories like auto+vehicle, Comedy, education, entertainment, Film + animation, Gaming. If you are comedy lover, just tab the comedy menu  to open all comedy videos from YouTube in the app list. Likewise, all category menu category menu will show all YouTube videos.
If you want to customize the home screen, just done with some tabs. Utilize the search functionality to search the videos you want without going to Official website. Want to watch recently trending videos in the YouTube, tab the popular section to get the most watched videos in the world.
MetroTube gives you the effortless, efficient browsing experience. Like YouTube site, Stream the videos in HQ, HD and Full HD in MetroTube. The most interesting feature of this app is, "watch the videos while you browse the web" in single screen.
When you play the videos, the relevant videos and your subscribed channel videos will be showed in the right side with tabbed feature.
Download Metro YouTube App
Supports :  Windows 8 and RT
Price         : Free
Download MetroTube from Windows app Store