100+ Best Free Windows Software Programs Ever (Most Useful) – 2020 Edition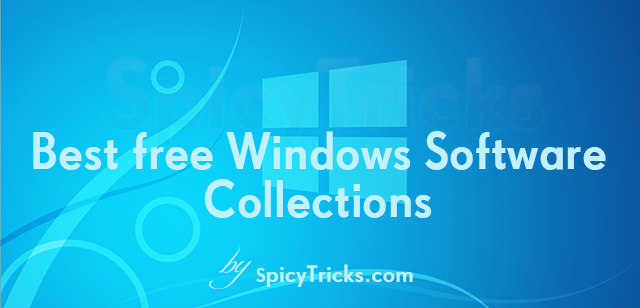 Best PC Maintenance Windows Software
In this page, You can get the best free Windows software applications in the categories like Backup, Data removal, best optimization and registry cleaners.
Best free Backup software for  Windows 7, Windows 8 and Windows 10
1. Macrium Reflect Free
Macrium Reflect Free Edition makes file backup incredibly easy. You can use this simple, yet reliable program to back up your entire computer. Even naive users can easily use this program to back the hard disk. it provides steps of the guide to set up the backup process. Select the source location like hard disk, CD/DVD and Network location. In the final step, you can see the summary of your backup such as the backup type, destination, compression type, and password protection.
2. EaseUS Disk Copy Home Edition
Like the Macrium, EaseUS Disk copy is the popular software for disk Copy and Disk Clone. If you want to reformat your hard disk, use this App to back up your entire disk. It will create the backup even if yo has different operating system, file system and partition Scheme. After you have done the maintenance, You can recover your original files from that backup
Download EaseUS Disk Copy Home Edition
3. Bvckup
Continuously monitor folders for changes and update their backup copies immediately after the originals are modified. Or run backups at fixed time intervals.
Best free Optimization and Registry cleaner Tools for Windows 10, XP, 7, 8
1. CCleaner
CCleaner (Crap Cleaner) is the best Optimization and Maintenance Windows tool for every Windows user. Use this Optimization Application regularly to improve the speed of your Windows Computer. It has privacy cleaner, Temporary file cleaner, Registry cleaner, Uninstaller and more.
2. Advanced SystemCare Free
Iobit is known for its PC Maintenance Software products. Advanced SystemCare is developed by the Iobit. Use this Windows SystemCare application to protect, repair, clean, and optimize your PC. It is an award-winning, free PC repair software is a "must-have" tool for your computer.
Download Advanced SystemCare Free
Best free Data Remover and Eraser Tools for Windows
1. Eraser
Do you know? If it is permanent or normal delete, Anyone can easily recover the deleted files from your computer. With help of File Recovery tools that is possible. It's because, normal delete only removes the file reference from the disk, file stays not deleted. it will be deleted when you create new files on the same disk. However, Eraser is an advanced security tool for windows that powers you delete the files without any trace of recovery.
If you want to delete the sensitive data from your Hard Disk, Use Eraser. It removes the file reference and completely rewrites the removed memory space. So that, any can't recover the files using the magnetic fields on the disk.