100+ Best Free Windows Software Programs Ever (Most Useful) – 2020 Edition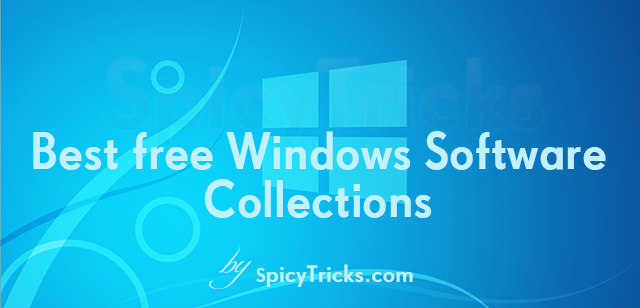 Best free Image/Photo Editing Software applications for Windows 10, 7, 8, XP
1. Photoscape
Photoscape is a fun and easy photo editing software that enables you to fix and enhance photos. It is one of the best free Photo editing software, used and recommended by many people. Use the Photoscape to Merge multiple photos on the page frame to create one final photo and also you can  Slice a photo into several pieces.
This free photo editor offers many exciting features such as resizing, brightness and color adjustment, white balance, backlight correction, frames, balloons, mosaic mode, adding text, drawing pictures, cropping, filters, red-eye removal, blooming, paint brush, clone stamp, effect brush.
2. GIMP for Windows
GIMP is a popular open-source image editor originally developed for Unix/Linux.  GIMP is the best alternative for Photoshop in Windows. It offers most of the features offered by Photoshop. Once you gain the knowledge in GIMP, mostly your don't need Photoshop.
3. IrfanView
IrfanView is the one of most and best photo edit most graphics formats simply and quickly. It is designed to be simple for beginners and powerful for professionals. IrfanView was the first Windows graphic viewer WORLDWIDE with Multiple (animated) GIF support.
Quick Features:
Paint option – to draw lines, circles, arrows, straighten image etc.
Slideshow (save slideshow as EXE/SCR or burn it to CD)
Support for Adobe Photoshop Filters
Effects (Sharpen, Blur, Adobe 8BF, Filter Factory, Filters Unlimited, etc.)
Screen Capturing
Add overlay text/image (watermark)
4. Google Picasa
Google Picasa is the best photo managers available for windows. It is created by Google. Picasa has many photo editing options includes one click Photo retouch. By using Picasa, Organize, edit, and share your photos online.
5. Paint.NET
Paint.NET is a free image and photo manipulation software for Windows XP, Windows 7, 8 and Windows 10. It is the best alternative to Microsoft's Paint. It provides the simple and innovative User Interface. Even, the beginners don't need any guidance to use this Software. It provides the support for layers, unlimited undo, special effects, and a wide variety of useful and powerful tools. It also has the plugins which powers this program to expand its functions.
Best Free Music Audio (Mp3) Players, Editors and Managers:
1. Audacity
Audacity is free, open source, cross-platform software for recording and editing sounds.
Records live audio.
Convert tapes and records into digital recordings or CDs.
Edit Ogg Vorbis, MP3, WAV or AIFF sound files.
Cut, copy, splice or mix sounds together.
Change the speed or pitch of a recording.
Add new effects with LADSPA plug-ins.
2. Foobar2000
Foobar2000 is the free Audio player that supports multiple audio formats. It has basic features like full Unicode support, ReplayGain Support. You can use this software for ripping Audio CDs and transcoding all supported formats.
You can also customize the user layout and also you can set your own shortcuts.
3. MP3 Cutter
This is the best MP3 Cutter to Cut and Split MP3 Audio Fast and Easily named "MP3 Cutter". MP3 Cutter supports more than 40 popular audio & video formats. You can also Convert audio files between MP3 and other formats. You can also extract music from video files to MP3 format and also Make ringtones from any audio or video files.
4. MediaMonkey
This is the one of the best music player with super advanced organizer and Music file manager. The Universal Media Manager that is Sync most iPhones, iPods, & MP3 players, converting & leveling tracks on-the-fly. You can also convert MP3s, M4A, OGG, FLAC, WMA, MP4, AVI, and WMV to support most devices. And also manage any audio / video genres: Rock, Classical, Audiobooks, Podcasts, Home movies, tv, etc. Media Monkey allows you to create playlists and let Auto-DJ & Party Mode take care of your party.
It will automatically lookup and intuitively tag Album Art and other metadata.
5. Tomahawk
Tomahawk is a music player that fundamentally changes the way music is consumed and shared.
Tomahawk is a social music player that allows you to get the hot songs available in the internet. Also, You can create the playlists from YouTube, Grooveshark and other Online Music Streaming Services.
Best Free Video Players, Organizers and Managers for Windows 10, 7, 8, XP
1. VLC Media Player
VLC is the Popular and Best Video Player for Windows. You will never find the windows PC without the VLC Media Player. It is open-source and cross-platform Video Player, developed the VideoLAN. It plays the all video formats including DivX, Bluray, avi. You can also play the various online streaming networks.
Read: How to Automatically Get Subtitles on VLC for Movies, Videos and Songs
2. XBMC
XBMC is available for Linux, OSX, and Windows. It supports all popular video and audio formats. Use this software to play the video, audio files from the internet and local storage.
It creates the personalized library automatically by scanning your media files in the hard disk. Play the media files from CD, DVD, Internet, ZIip and RAR archives.
3. Media Player Classic
MPC-HC is an extremely light-weight, open-source media player for Windows. It supports all common video and audio file formats available for playback.