How To Install XPOSED Framework & Installer APK in Android 5, 6 [Full Guide]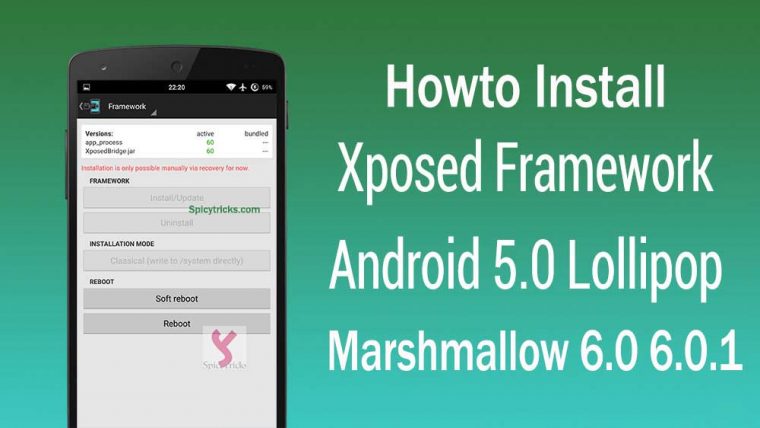 Here, We've Posted the Complete Guide to Install Xposed framework in Any Android Phone with Xposed installer Apk. Xposed Framework is the best ever mod for the Android system that brings the whole new level of Android Experience. The Xposed needs no introduction among the Android enthusiasts. It will always be the top mod in Modding Community. Because, "Xposed" brings you tons of customizations to your Android Device without flashing custom ROMS. In addition, One can install the many Xposed Tweaks in the Rooted Android Devices without any risk.
Without XPosed Framework, Customizing the Android device is really painful. Because, Users have to modify System files to change any functionality to Android Device. Most of all, Android devices can be easily customized with help of Xposed Modules. Because, Using the best Xposed Modules, Android Lollipop User Interface can be changed to Android Marshmallow. Just like that one can do anything to Android system without touching System apps and apk.
XPosed Module like Greenify can increase the Performance of Android and speed up Android Phone.  Also, Using Xposed Modules to cheat many games. For example, you can hack and Cheat 'Pokemon Go' to Play Any Location using Joystick
Recently, the Latest version of the Android 7.0 Nougat released. Besides that, the Xposed Framework is not released for that Android version. Currently, Xposed is only available for Android Marshmallow 6.x.x , Android 5.x.x Lollipop versions. Lets move on to installing the xposed framework in Android phone.
How to Install Xposed in Android Lollipop and Marshmallow Android Phone / Tablet
Download Xposed Framework  for Android Marshmallow & Lollipop
Xposed Framework Installation files Android 5 & 6
You can get the files used to install Xposed Framework in Android phone in the following table. Use the Custom Recoveries to Flash the following Xposed frameworks in the Android Device. Furthermore, You can use the TWRP or CWM Custom Recoveries for this.
Android Lollipop 5.0 & 5.1
Android Marshmallow 6.0 & 6.0.1
Uninstall Xposed Framework files Android 5 & 6
You can easily uninstall the Xposed from your Android Phone. To do that, just download the Xposed Framework uninstallation files from the link provided below. You have to follow the same Procedure to flash the uninstallation Xposed Framework files in your Android Phone.
Download XPosed Framework UnInstallation Files
Xposed Installer Apk Free Download for Android Marshmallow & Lollipop
Now, Download Xposed installer latest version Apk for your Android Phone. Xposed installer will help you to download the Xposed Modules in Android Phone. It also connects the Xposed Framework and the modules to make thing work. Xposed App Settings will help you to disable and enable the Xposed Modules.
Download Latest Xposed Installer APK
Uninstall Xposed Installer APK
Xposed Installer APK is a like Normal App which can be uninstalled the same way like other apps.
Requirements to install Xposed framework
 You Need Rooted Android Phone (How to ROOT Any Android Phone with One Click without PC)
Then install the  Custom Recovery – TWRP, CWM (ClockworkMod Recovery) ( Guide to Install Custom Recovery in Android Phone)
Important thing before doing this, You should back up your Entire data in your phone for safety. If any error happens or if your phone boot failure, You can use that backup data Rather lost everything.
Steps to Install Xposed Framework & Installer
Download the Xposed framework from the above table. First try know the Architecture of your Phone model. Then Download the Respective Xposed Framework and Place it in the any Folder in your Internal storage or SD Card
Next, You have to Boot your Phone to Recovery Mode.  Switch Off Your Phone. Press the VOLUME UP + POWER Button or the Likewise Hardware keys. Mostly this Key combination will boot your phone into Custom Recovery. Use the hardware Keys Volume buttons to choose the Recovery option in boot screen.
 After booting into Recovery mode, Choose Install for TWRP Recovery or Install ZIP from SD card for CWM Recovery. Then choose the Xposed Framework File You have stored inside the Internal storage.
Choose that Zip and then press Install. Wait for sometime to complete the installation.
Then, Wipe Dalwik and System Cache which is optional step. Some requires it. Then Reboot your device. That's it XPOSED Framework has been installed.
Now, Install XPosed Installer APK in your Phone. Just Open the Downloaded apk and install it. if You blocked by the Android for installing APK file, Goto settings > Security > Enable Unknown Sources (Allow Installation of app from unknown sources). Now, you can install XPosed Installer.
That's it, Now, Enjoy with Xposed in your Android Phone.
Conclusion
Now, You have installed the Xposed in your Android Phone or Tablet. Now, Open the Xposed Installer and install Any Xposed Modules in your Phone and have the best features. If you have any problems while installing the Xposed framework, like Device not booting Up, Phone having Boot loop, install the XPosed Framework uninstaller to Remove Xposed Framework. This guide will work for most of the Android Phones, So you can install Xposed in Samsung, Sony, Motorola, Huawei, LG, HTC, Google Nexus and any other Models.