60+ Best Linux Software Applications for All Distros [Most Useful]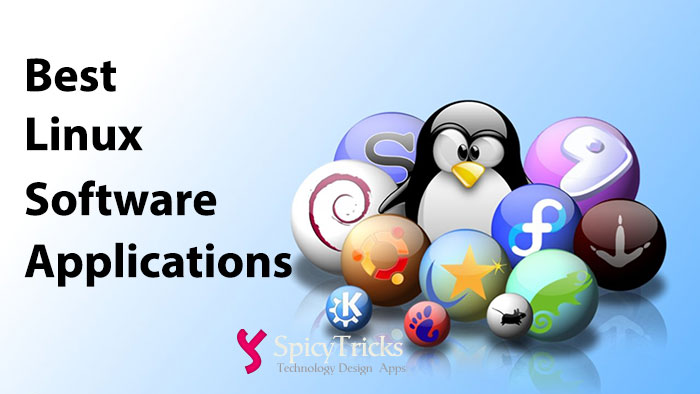 Best Image(Photo) Editors / Managers Applications for Linux OS (Ubuntu, Fedora, etc)
In this category, We've listed the best Photo editing Linux Software Applications. Most the oft windows users who migrated to Ubuntu or any other Linux System needs the Photoshop. That's why we've posted the best Photoshop alternatives for Ubuntu and other linux users here.
1. InkScape
It is a powerful Open source vector graphics editor, with capabilities similar to Illustrator, CorelDraw, or Xara X. It supports many useful SVG features (markers, clones, alpha blending, etc.).
It also provides support and help via the developer forums. You can get quick help from active community users.
2. GIMP
GIMP is the popular Open source image editor. In Linux, GIMP is considered as an Alternative to Photoshop by many users. It also supports Photoshop file formats.
You can do photo retouching and many other image manipulation techniques with GIMP. Mostly, you don't need Photoshop, if you have the GIMP skills.
3. Blender
Blender is the Open source 3D modelling and Animation program. Using this free application, you can create animated films, visual effects, art, 3D printed models, interactive 3D applications and video games.
It provides a wide range of features, that can be used to create awesome 3d animation films. This program also got active community which provides quick help and support for you queries
Best Video Editor Applications for Linux
1. Pitivi
PiTiVi is free video editor that provides a user-friendly interface, provides stunning features to make beautiful videos. It is the best video editor for Linux Operating system. You can use this Video editor in Ubuntu, Linux Mint, Fedora and more.
Best Audio Player Applications for Linux
1. Audacity
Audacity is free, open source, cross-platform software for recording and editing sounds.
Records live audio.
Convert tapes and records into digital recordings or CDs.
Edit Ogg Vorbis, MP3, WAV or AIFF sound files.
Cut, copy, splice or mix sounds together.
Change the speed or pitch of a recording.
Add new effects with LADSPA plug-ins.
2. Banshee
Banshee is the free  and best music player and manager for Linux Operating system. You can organize music and video files easily and you can find out your favorite tracks without any delay. In addition, you can listen podcasts and internet radio with banshee.
3. Tomahawk
Tomahawk is a music player that fundamentally changes the way music is consumed and shared.
It decouples the name of the song from the source it was shared from – and fulfills the request using all of your available sources and creates the music library. From this library, you can pick and group songs into playlists, without needing to worry about whether they are on YouTube, Grooveshark, etc.
 4. Mixxx
Mixxx is the most advanced free DJ software. Whether you're DJing your next house party, spinning at a club, or broadcasting as a radio DJ, Mixxx has what you need to do it right.
Best Free Video Player Applications for Linux
1. VLC Media Player
VLC is the best video player for Windows. VLC is a free and open source cross-platform multimedia player and framework that plays most multimedia files as well as DVD, Audio CD, VCD, and various streaming protocols from online like YouTube and etc..
2. Kodi (formerly XBMC)
XBMC is created in 2003 and an award-winning free and open source (GPL) software media player and entertainment hub for digital media.  Now XBMC is available as KODI Software. KODI  is available for Linux, OSX, and Windows.
Most of all use Kodi as a Home Theater PC.
Use the Kodi to play the local media files, as well as online media files. Once you install this software, it will fetch all media files in computer and will build the media Library with box covers, descriptions, and fanart..
It is basically designed for network playback. You can play almost any music formats. Play CDs, DVDs, also play the files directly from compressed Zip, RAR Archives.
There are playlist and slideshow functions, a weather forecast feature and many audio visualizations.