How to ROOT Any Android Phone with One Click without PC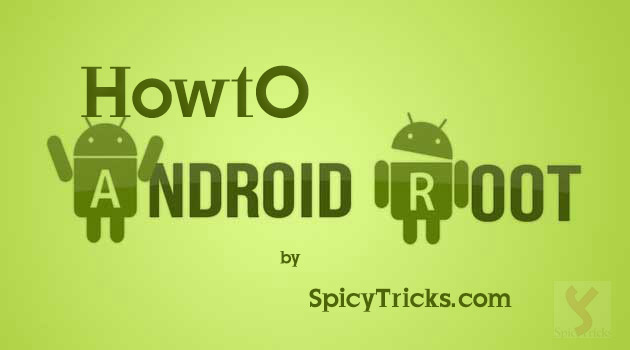 Rooting Your Android Phone with just One Click without any computer or any other complex method. If you are an Android User,  you may have faced the need of Rooting Your Android Phone sometime in the device usage. Many users asked How to Root My Android Phone easily? To answer those Android users, Finally We've brought you the best way to Root Android Phone or Tablet with single click without flashing custom recovery.
Why We need to Root Android ?
First of all, without Rooting Your android Phone, You can do a lot of things with your default Android Settings. Like, You can speed up the Android Phone by tweaking some settings, clean the Android temp files using apps, boost its battery power, improve the performance using Greenify. However by Rooting Your Android Phone, You can even more power in your Android phone, even you can overclock the Processor of your Android Phone.
FurtherMore, You can install the Custom Recoveries like TWRP in Rooted Android Phone. Also, If you want to install Custom ROMS like Cyanogenmod, You have to Root your Android Phone. In Rooted Android Phone, you can install XPosed Framework which will extend the Android system functionalities.
How To Root Android Phone or Tablet With Simple Steps
If you have decided to Root Your Phone and want to get the full power of Android Phone, then Should know that, Rooting will void your warranty of your phone. Also, You may have a problem in receiving the OTA Update. But, You can Unroot Your Android Phone to get the OTA Update and the Warranty.
Prerequisites for Rooting Android Phone
First Backup your data in your Android Phone. Note that, Rooting will not delete any data from your Android Phone. Incase something goes wrong, you can have that data back.
Have the battery backup above 20%. Atleast have minimum charge upto 25%.
Finally, You can Root your Android Phone. 🙂
Note:
Please note that you are responsible for what you are doing to your phone. If any failure, interrupt happens in your device, the device may Softbrick. You can recover from that softbrick or not. Please be cautious.
Apps to Root Any Android Phone
# KingRoot
Without PC, You can Root Your Android Phone using KingRoot Android Apk. You can download this KingRoot Apk from XDA Developers forum.
KingRoot is super cool tool that will give you Root Access to almost any Android Phone with above average success rate. Using this Rooting App, You can Root any phone like Samsung, Motorola, Huawei, Lenovo. In addition You can use this same app for Android Lollipop 5.x, Marshmallow 6.x, Kitkat.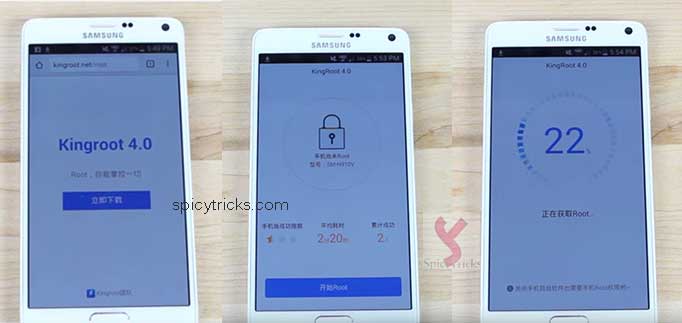 KingRoot is not a paid app, You can simply use it for Free of cost. Simply Install this KingRoot App and gain Root Access without installing third-party custom recovery. As a Result, You don't need to install any other apps or tools to root Android Smartphone.
Just install the App and simple click Root access. Because, KingRoot app will choose the best Rooting strategy and deploy that for your Android Mobile Phone from cloud. Hence, You can use this app to Root Your Phone with high success rate.
Follow the Instructions to Root Android Mobile with KingRoot
 First of all, Download the KingRoot APK From the link we provide above. Then, Install the App in your Android Phone. Furthermore, You don't need to anything.
Then Launch the App from your phone.
Finally, Click the "Try to Root" to Start Rooting of the Android Phone or Tablet. Then Follow the onscreen instructions and proceed further. Now, Kingroot has started the process of rooting your android Phone. Just wait for the Rooting Process complete.
Finally, You will get the Root Successfully installed message. If the Root Process is not success, then You can close the app and try any method available for your phone. Your Phone will work very normal and the KingRoot app will not cause any issue if it failed to root.
That's use the Root Checker app to Check Whether Root Access is enabled or not in your device
# TowlRoot
TowlRoot is a One Click Root Tool for older Android Devices. It supports Android 4.3, Android 4.4.2 operating system. If you have Kitkat Android Phone, You can Root Kitkat Phone with this app.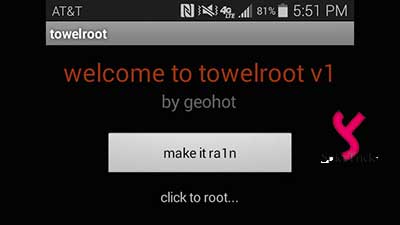 This is very simple App. Just download and install this app in your Phone. Furthermore, you dont' need to do anything. Open TowlRoot app and click the "make it ra1n"  to Root Your Phone. Finally your older Android phones Rooted. If you have Lollipop 5, Marshmallow 6 or Nougat 7 Android Phones, try the First method and Root your Devices.
Finally, We You know the simple methods to Root your Android Phone here. If you have any issues in the above methods, Post it in comment