Watch YouTube Videos in Firefox Sidebar and Browse the Web Same Time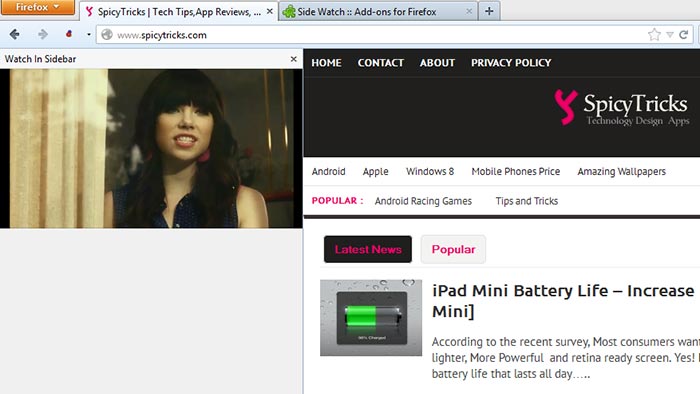 YouTube is the favorite for all users in the world. All Internet users have visited the YouTube at least one time in their browsing life. There are many Online Music streaming services are available to users. Even though, the YouTube is most used by the music lovers to listen music videos. Watching videos and listening music while working in the computer are the habit of  many users. But the problem is many users want to view YouTube videos and browse the websites simultaneously. There is no solution to achieve this in any browser until now.
Also read : How to Make YouTube Videos Load Faster [THE BEST TIPS]
The Side Watch is the new Firefox add-on that helps you to view YouTube videos in Firefox sidebar and allows you to browse the websites. This tool is very useful to view other websites and at the same time you can watch YouTube videos in the screen.
Once you installed this add-on from Mozilla add-ons site, it creates the sidebar in the Firefox browser which is used to watch YouTube Videos even if you change the browser's tab.
Install and Watch YouTube Videos in Sidebar
To download Side Watch, click the download link below and install this extension in Firefox. There is no settings and configuration for this extension. Install and watch the YouTube videos in the sidebar.
Open the YouTube video you want to watch in Sidebar in Firefox and click the Side watch Icon which is in the lower right corner of the browser window(add-on bar). If you don't see this add-on bar, enable it Options> Toolbar Extensions (this can be done with the shortcut Ctrl + / ).
Once you click the Side Watch Icon, the YouTube video will load in the sidebar. Now you can watch YouTube videos and you can chat with your Facebook  friend at the same time. Of course, you can visit any other websites.
Try this add-on in your Firefox and share your experience about this.