If your computer runs for longtime, it may produce over heat. Basically Your computer have the fan to remove the excess heat from the CPU. Every CPU has a maximum bearable temperature which is set by it's manufacturer. If CPU temperature is beyond that bearable temperature, You can find out that using the Temperature Monitor Software.
SpeedFan is great software to measure temperature of CPU. The user interface of SpeedFan is very user friendly. SpeedFan is a freeware program that monitors CPU temperature and can also do a lot more.
 How to check CPU temperature, Using CPU temperature monitoring software:
SpeedFan is a program that monitors voltages, fan speeds and temperatures in computers with hardware monitor chips. SpeedFan can even access S.M.A.R.T. info and show hard disk temperatures. SpeedFan supports SCSI disks too. SpeedFan can even change the FSB on some hardware (but this should be considered a bonus feature).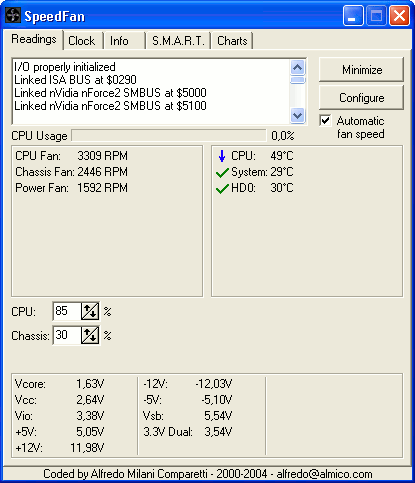 SpeedFan can access digital temperature sensors and can change fan speeds accordingly, thus reducing noise. SpeedFan can find almost any hardware monitor chip connected to the 2-wire SMBus (System Management Bus (trademark belonging to SMIF, Inc.), a subset of the I2C protocol) and works fine with Windows 9x, ME, NT, 2000, 2003, XP, Vista and Windows 7. It works with Windows 64 bit too.
Changelog:
added voltage reading tweaks for several Intel boards
added configurations for several Intel boards
added MSI MS-7577 configuration
added full support for Fintek F71858AD
improved Areca support for SAS controllers
refactored USB external drive detection
added support for USB external enclosures using SunPlus, IoData and Logitech chipsets
Download: SpeedFan 4.46 Beta 4  2 MB (Freeware)
NOTE: Registration is required for downloading.