Today Most of the youngsters using their computers at night very long time rather than using in the daytime. Staring at your computer screen for the long time could lead to some physical problems, that is eye-related diseases. Especially at night the eyes may go rough. At the end you might suffer with dry problems or may be with some serious eye problems.
To get rid of this problems while you are working late night, you have the option to adjust your screen brightness manually in any systems. This remedy work for some time but not greater extent. Also dimming your screen alone won't protect your eyes. It needs much more tweaking in your computer screen to get the perfect screen that will fit for eyes.
What is it and How it will help
F.lux is the light weight utility that automatically adjusts your computer screen brightness depending on the time of the day with some advanced tweaking facilities.  It makes the color of your computers display adapt to the time of day, warm at night and like sunlight during the day.
Most Useful Features
 It makes you sleep better and Protect your eyes
 it makes your computer screen look like the room you're in, all the time. In day time It gives you the bright screen like sun, in night-time it gives you the best night screen
 It has the  Change location option enter your GPS Co-ordinates to make things better for adjusting your screen brightness based on the time automatically.
If you want to do Color-sensitive work, You can disable this app for one hour to give you the default brightness
You can also control the transition of your screen brightness in the transition speed settings: fast 0r slow.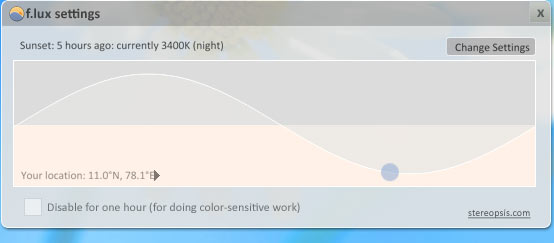 Just download and install this application, it will run in the background all time. Only uses just 3.3 MB RAM in my system when I have tested this little handy utility. Double click to open this program in your computer as a window. Click the 24 hour preview to know that how this app changes your computer screen based on the time.
This application isn't suitable for the individuals doing color sensitive works like Graphical design at night. Because this app changes your screen brightness and colors. So that your screen will look orange or light pinkish color. So It will not be suitable for any color sensitive work. Apart from that anyone can use this app to protect their eyes from bright light.
Conclusion
My Personal Experience about this app is good. I work a lot at night. And this app helps me a lot to protect my eyes during night-time when I have written articles for this blog or doing some other activities Online.  If you are like me, Just try this app and post your opinions
This app supports Windows, Mac OS X, Linux, iPhone and iPad. I have tested this app in Windows 8, and it works without any problem.
Update :
F.lux 3 beta Released. Here's a quick look of F.lux 3 Beta
Warmer colors, down to 2700K
f.lux for Philips Hue
Support for calibrated monitors
Movie mode (partially disable to watch a movie)
Disable until morning
Screen warms as you dim it
Fixes for Intel chipsets
Ffixes for Windows 7+
Download: f.lux 3.0 Beta
Download F.lux(HomePage)