Online Tracking the is the one the major concern for our privacy. Few days ago we have shared the info about the Google's Privacy changes and how to stop the online tracking of your activities by removing the Google web history. Collusion is a Firefox add-on that can be quite useful. This handy tool lets you visualize websites that are tracking you in real-time.
Well, Cookies are a controversial part of the Web. These tiny files sit on our computers tracking what sites we visit – mostly to build up a picture of our tastes in order to serve us relevant advertising.it's understandable that you'd want to at least know who's tracking you.
How to Find Who is Tracking You:
Firefox  is the widely used most secure and fastest Browser. You can get more out of it when you use the Firefox with extensions that is Add-ons. Collusion is the on of the great Firefox Add-on that maps out the cookies used by each website you visit. Keep it open in one browser window and visit a view sites in another and you'll see new nodes pop out on the visualization as new cookies are discovered. Ones marked in red are confirmed trackers.
You have to note the Important point, some trackers only used to remember your username and password that is login details.Though they may track your web behavior that is only used for delivering relevant ads.
Collusion does a great job of explaining the trackers in a straightforward and easy-to-understand way. Currently available for Firefox, it's open source so hopefully it will be landed to other browsers in the future.
After installing the add-on, click the icon in the Firefox status bar to launch the visualization screen in a new tab.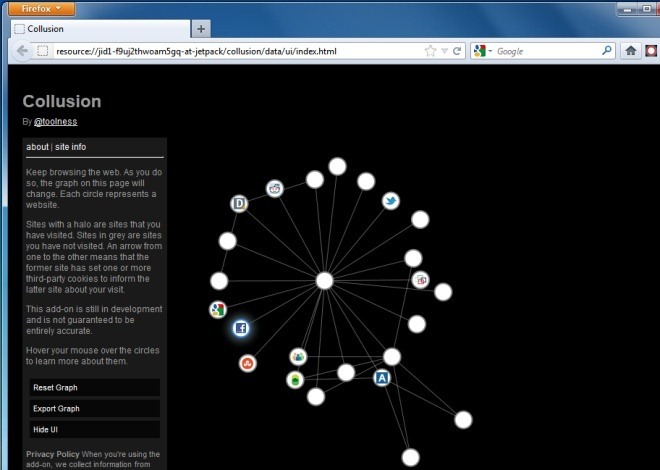 Then when you open new websites, the graph will change accordingly, and circles will be added to represent different websites.
The add-on is still under development, so users should note that the results might not be very accurate,
Collusion Firefox Add-on is currently not available.  You can try the 25+ Best Mozilla Firefox Browser Add-ons Popular Downloads