Apple products are famous for being of really high quality and stylish design. Apple's latest operating system Mac OS X Mountain Lion is an example of such a stylish design and cool effects.
For Windows 7 users, to get those stylish user Interface and themes, previously We have shared the Mac OS Transformation packs that will transform your Windows 7 UI into Mac OSX Mountain Lion User Interface. These transformation skin packs will transform your windows 7 to Mac OS automatically.
Visit our Top 10 Windows 7 Themes for your Windows 7  post for More themes.
Now In this post, We want to share one more step to attain Apple mac OS X feel in your Windows 7. Now get the Apple Mac OS X Lion Logon screen in your Windows 7.  Just follow the instructions below to get the Mac OS X Lion Login screen.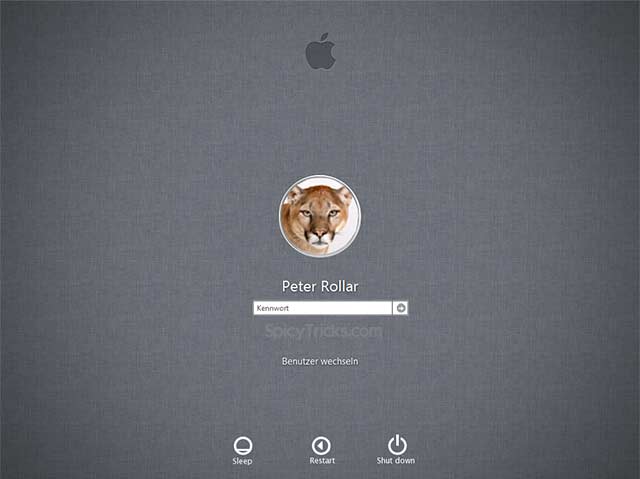 How To Get Apple Mac OS X Login Screen in Windows 7
Step 1 :  Download the Mac OS X Login Screen from here. Thanks to PeterRoller for this Awesome skin.
Step 2 : After that Extract the files using WinRar or 7 Zip. You will get 32 bit and 64 Bit folders and background screen images. (Use respective folders with Your 32 bit and 64 bit systems).  Each folders have 2 DLL files that will give you the OS X ML Log in screen in your Windows 7.
Step 3 : Now Go to  System32 folder in your system. That is C:WindowsSystem32 
Note: For 64 bit user the Path is  C:WindowsSysWOW64
Shortcut : Pres Win + R and Type System32 to open that folder directly.
Step 4 : Now time to replace your Windows 7 system files (DLLs)with MAC OS X Lion Skin DLLs. For that you have to take the ownership of that file.(At the End of this Post We will show you how to take ownership).
Step 5 : Now Go to Branding folder in your Windows 7 system. The path is : C:WindowsBranding. Now open the folder Basebrd and  take the ownership of the basebrd.DLL in that folder.
Note : you can open this folder using Run command by typing Branding
Step 6:  Now replace that dll file with Mac OS X  Lion basebrd.DLL file
Note: For safety measures, take backup of the old DLL file by renaming it to basebrd_old.dll
Step 7 : Now time to set the Mac OS X Lion Login Screen background in Windows 7. for that change your Windows 7 login screen downloading  the following tool. And Install it and change the background with that MAC OS X ML Background.jpg.
Thats it. Now restart your system as windows 7 and open as MAC OS X Mountain Lion 🙂
How To Take Ownership of System files in Windows 7 System
To Take ownership of your Windows system files, just download the following Registry script and install it. After that you will get the context menu Take Ownership, whenever you right-click the files.
Download TakeOwnership Registry files