After some long Time,I have designed a new Premium Blogger Template for our Blog Readers.Today, I'm happy to release, That premium quality blogger template "News Tut" for free to all.You can check out our Premium Blogger Templates here.You can use this Premium Blogger Template for all type of Blogs like Tech Blog,News Blog,Magazine blog.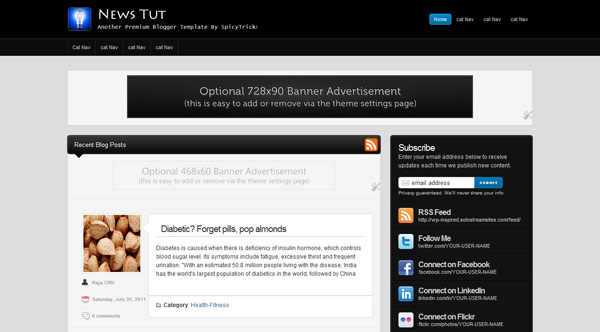 Download | Demo
If you like this Template,Please Click the Like Button and +1 Button in the Header.
Template Features:
New banner at the Below header with size 468×96 in Home page
AdSense Banner ads 728×90 added below the header(To Improve CTR)
Site-wide 125×125 Sidebar banner ads
Site-wide 120×600 Sidebar banner ads
Featured post in Slideshow(Automatic Update) (soon in Version 2)
Small thumbnails with grabs the image automatically and crops it
Related post box at the end of every post(To improve Page Views)
Feed burner Subscribe Form Added
Word press style comment form
3 columns
Magazine Style
Thumbnail images with posts
Horizontal Category Navigation
Tabber Tab Widget (Soon Coming in Version 2)
And Some Cool Features
The Template can be best viewed in Firefox,chrome,IE with maximum compatibility.
Update: Static pages Feature Added.