Microsoft Released 'Bored To Death' online HTML5 Game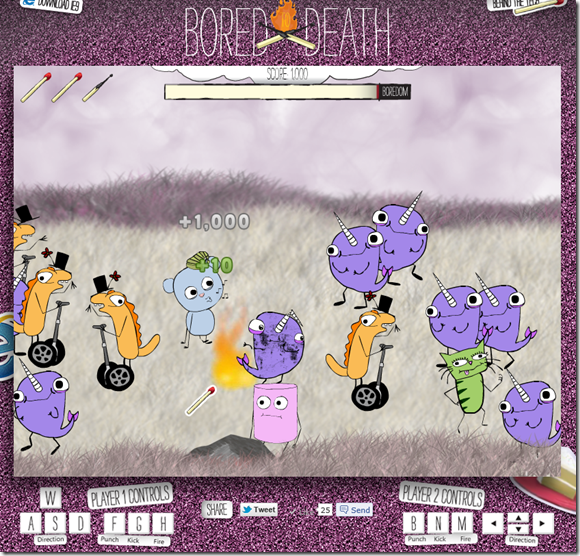 Microsoft IE Team has released the new animated modern Game "Bored To Death". This game is HTML5 game which can be played on any modern browsers which has the support of the HTML5 like IE, Chrome, Firefox, Opera.
Microsoft has already released the Cut the Rope online Game for the HTML5 supported browsers.
In WindowsTeam blog they said,
Bored To Death is an arcade style brawler intended as a throwback to arcade games of the past and powered by JavaScript and HTML5.. The game has our bored Marshmallow people running around the playing environment trying to keep themselves from literally being bored to death. Even cooler, a second player can join the game on the same physical keyboard.
Player 1 controls:
W – Move up
S – Move down
A – Move left
D – Move right
F – Punch
G – Kick
H – Fire
Player 2 controls:
Up arrow key – Move up
Down arrow key – Move down
Left arrow key – Move left
Right arrow key – Move right
B – Punch
N – Kick
M – Fire