Bitdefender Antivirus 2013 edition is now available free of cost for Home users. You don't need any Product keys or License keys for Bitdefender Antivirus 2013 in your computer. The latest Bitdefender Antivirus 2013 free edition is compatible with Windows 8. All users who have Windows 8 can install this free BitDefender Antivirus program.
Now, Bitdefender is the new addition in the free Antivirus category. Already Many Top Antivirus Companies like AVG, Avira, Microsoft offers free Antivirus products.
Bitdefender Antivirus is an antivirus program designed to be fast and to minimize user interaction. You don't have to sacrifice nothing of the malware detection and removal capabilities. By default, Bitdefender Antivirus Free Edition scans and cleans your system using minimum resources only. It is smart and effectively uses resources when your operating system are not using, thus achieving near-zero impact on your activities.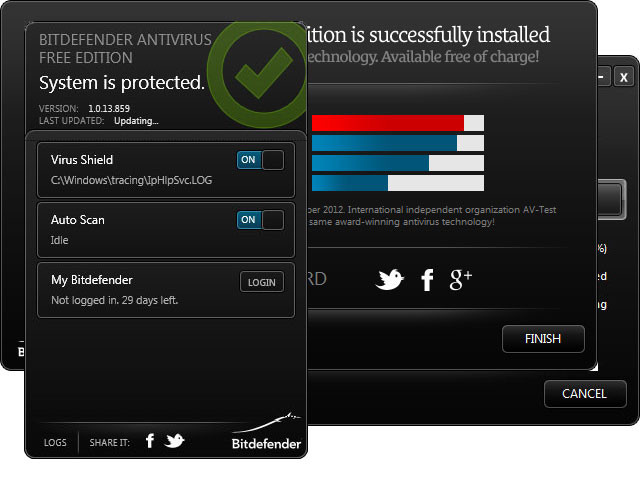 Bitdefender Antivirus Free Edition periodically scans all of your files and handles all security-related decisions for you. This means you will see no pop-ups, no alerts and you will not have to configure any settings whatsoever.
These are its main features:
Close to zero impact on the system
Minimum user interaction required
Fewer settings to configure
Continuous scanning protection for your system
Simple program interface
Wrap Up
Bitdefender 2013 is lightweight like Microsoft security essentials. It has nice simple User Interface and powerful Virus detecting technology. Also, It is compatible with Windows 8. It supports Windows 7 and Windows XP also.
Download: BitDefender Antivirus 2013 for free edition
More Free Offers for other Antivirus
DOWNLOAD:
Get 180 Days Free Trail of Bitdefender Internet Security 2014