Apple Inc. has unveiled next major version of Apple's desktop operating system, OS X 10.9 Mavericks at WWDC 2013 (Apple's Annual developer Conference).  Apple said that Mavericks has over 200 new features including new Tabbed finder windows, full screen apps and Tags.
Apple claiming the Tag supports is really innovative feature that will certainly improve the user experience further more. The Tags will help users to keep track of their files on Mac. The Maverick also has the improved support for multiple displays.
Recommended Read  : 50+ Best Free Mac Software Programs Ever! (Most Useful)
Also Read : Best Free iPhone Apps Ever! – Must Have Apps for all Your Needs
Safari is update with a lot more features: Improved bookmarks,sidebars, shared links. Also, they added to that, Safari is much faster that Chrome and Firefox, even it consumed less power than the World's top browsers.
Mavericks includes the " iCloud Keychain" which is a password management tool that securely stores your login details, credit card numbers, and other sensitive data and syncs them across devices.
Apple also showcased the new MacPro. This sleek and cylindrical-shaped Mac Pro will be available late this year and will be assembled fully in United states.
Marketing chief Phil Schiller has shown the new Mac Pro to the audience at the event.
Schiller said as he showed off the new Mac Pro,
"Can't innovate any more, my ass," . "This is a machine unlike anything we've ever made."
Apple has struggled a lot after the Steve jobs demise, and there isn't any ground breaking innovative product from them. And their innovative Smartphone and Tablet market has been take over by the Samsung and Google. Also, the Apple stock has fallen 37 percent after touching a high of $705 in September. That's why Schiller citing that "can't innovate any more".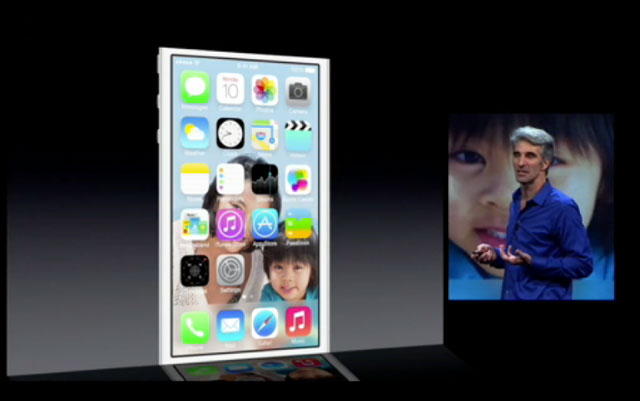 Apple also unveiled the new iOS 7 , the upcoming mobile operating system which has seen the complete change in UI and design. To cope up that Apple has redesigned all its applications and icons in iOS 7. Further It has some new features like iTune's free Radio streaming service which has over 200 radio stations, Siri the voice assistant will use bing search engine and the improved Maps.
iOS 7 New Features
Automatic app updates
A swipe-up Control Center that will have frequently used functions such as turning on wi-fi or Bluetooth, adjusting the volume, and using the iPhone as a torch
 Microsoft's Bing service within the voice-controlled Siri app, which also features new voices
An anti-theft measure which requires a user to enter an associated ID and password before being able to deactivate a device's Find My iPhone feature
Redesigned fonts, icons and Apps
Apple updates its iOS operating system every year and doesn't charge for the updates. The new operating system will be available for the iPhone 4 and later models, and on the iPad 2 and later models, including the Mini