Download FREE McAfee AntiVirus & Internet Security 2018 for 30 Days Trail

We have shared many Free Antivirus Software Apps with up to 270 days trail. However If the Free Trail Period ends, you don't worry about that. Get the Free McAfee Antivirus & Internet Security 2018 for 30 days trail. Yes, You can use Popular McAfee Antivirus 2018 for free about 30 days.
The Latest version of McAfee Antivirus 2018 comes with the fastest performance and gives the best protection against all kind of malware program. McAfee is the Popular Antivirus Security Application that actively protects your computer from Most Dangerous threats like Rootkits, Viruses and Worms etc. Want to know about Rootkits. Click the following link.
We've previously selected the McAfee in best RootKit Remover Applications.
McAfee Antivirus & Internet Security 2018 Features
The recent 2018 version of McAfee has been Refine and Re-engineered to give the fastest scanning of your computer with no false detection. Scans your entire system with low memory utilization, so that you can use your computer without any sluggishness.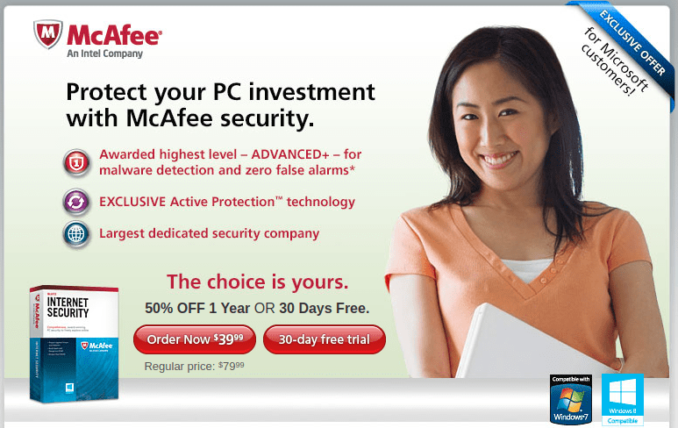 The Following list of Advanced detection programs are included with McAfee,
Anti-virus – Blocks and Neutralises the Virus Programs in your computer. Scans and Removes viruses from Infected computers.
Anti-spyware – Used to block the programs which accesses your personal information without your Knowledge
Anti-spam – Actively detects the spam mails and junk mails in your email clients.
Anti-phishing – Blocks the Fake websites which will look like the legitimate website that will steal your Usernames and Passwords, Credit card info.
Identity protection – provides robust monitoring and alerts to help protect you from identity theft.
Parental controls – helps parents to keep kids safe online, block unwanted websites and Restricts from inappropriate content when they are online.
Free McAfee Internet Security 2018 trail comes with the complete features of Paid version. So that you don't need to worry about any lack of security. It comes with the Active Protection technology which
blocks threats in milliseconds in your system.
McAfee also offers the Stand-alone Portable Malware Removal tools.
Free Download McAfee Antivirus 2018 or Internet Security 2018
McAfee Antivirus free Download, Use the below offer link to get 30 days .
Download the Free McAfee Internet Security 2018
Our Other Antivirus Free offers:
If you want free protection for more that 30 days from Paid Antivirus, then check out our other Offers.
Get FREE 90 Days Trail of Kaspersky Internet Security 2018 License Keys
Also See : Get 180 Days Free Trail of Bitdefender Internet Security 2018

Also See : Get 180 Days Free Panda Gold Protection 2018 for 180 Days