Built-in Windows Add or Remove Programs that is Uninstaller is not fully featured and Advanced uninstaller. That is Windows uninstaller function very slow and won't completely remove all the files from that specified software has in registry. That is all software programs settings and important configuration are stored in windows Registry(we can say it Windows database).
If you install and uninstall many software Applications, those software will leave some settings in the registry. That's why your computer will slow down gradually after some months or years. Read our Article how to improve the performance and speed of the Windows system(windows 7, Windows 8).
Then How to Remove software Applications Completely and Very Fast?
Windows built-in function fails means, we have no other choice than choosing 3rd Party Software product. Yes, Iobit Uninstaller is a small Windows tool that helps you to uninstall and to remove unwanted programs and folders from your computer fast and easily. What's better, it is a free Uninstaller without installation.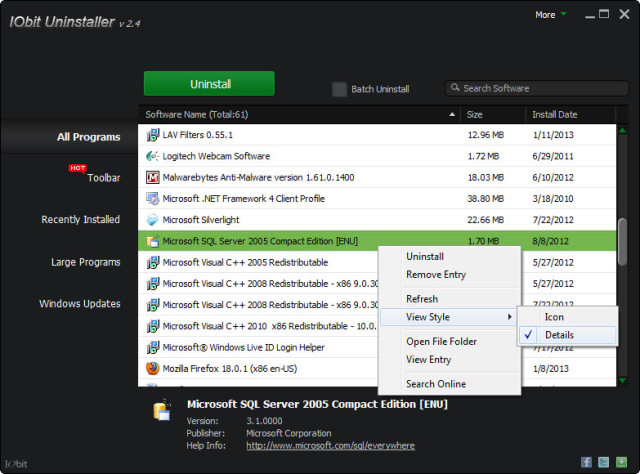 This Best Free Window Uninstaller has Batch Uninstall, Standard and Advanced Uninstall options. The Batch Uninstall feature that will Uninstall several applications so easily with just one click. While Standard Uninstall works as the Windows built-in Add/Remove Programs function, Advanced Uninstall function helps you scan Windows registry and hard drive for any possible installation leftovers.
This Uninstaller Also offers Many Other Features for free:
1-Click Toolbars Removal
Annoyed by so many toolbars in your system? Here's the simplest and fastest solution.
Without Installation
Look for a pure uninstaller that does NOT need an installation and will not screw your system again? IObit Uninstaller is the answer.
Forced Uninstall
Even a program is not listed in Windows built-in Add/Remove Programs, this feature still can help you automatically find the program's leftovers and traces in your system and remove them completely.
Log Manager and Restoration
Easily view what has been changed by IObit Uninstaller. Every time an "Advanced Uninstall" is performed, a restore point image will be automatically set for possible future system restoration.
Free and Easy-to-use
No IT knowledge needed, just download it and simply run it to remove all junk programs.
Download: Iobit Uninstaller 2.4.7.340 | 1.5 MB (Freeware)
Do you Know? like the above Free Software, we have collected the 100+ Best Free Windows Software Programs most useful ever. .
Share your thoughts about this Advance free Uninstaller for Windows Programs…