Over a year or a few months of personal computing, you might find that your hard drive fills up with the many files and folders and taking large of space of your computer memory. Those files could be big software programs, movies and Games applications. Previously I've shared the best Windows search tool, that shows results at lighting speed. Now I'm going to share the best software find the huge files that hogging your hard drive space.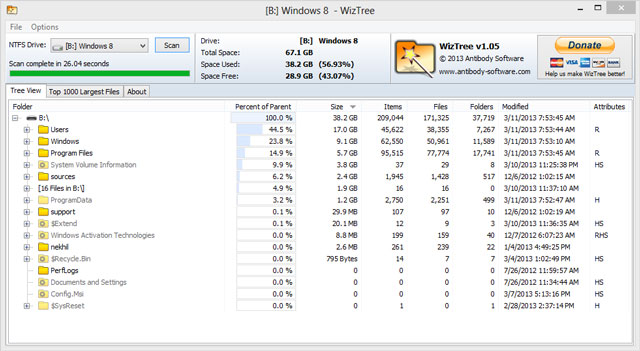 If you are running out of space in your hard drive and wants to quickly delete one of your Large file, then WizTree will help you. WizTree is a Small utility for Windows and comes as a freeware. WizTree is a hard drive analyzer that will analyze  your Hard drive and lists all your Large files and folders in a few a seconds.
Is WizTree is very Fast? how?
WizTree won't scan your Hard drive directly instead of that uses the NTFS Master File Table and shows you the large files and folders very fast and quick.
WizTree UI is very simple. It has two tabs in the window. One is Tree view that will list all the large files and folders in tree structure with size and number files in the folder. Another one tab is Top 1000 Large files , I think the name defines itself. Yes, It will show you top 1000 large files in your Computer.
How to free Up My Hard Drive when I have no Space in it using WizTree?
That's simple. Just open the WizTree and  scan your Local drives and the software will list all the large files from that disk.  Then spot the files you no longer needed and delete it.Voila ! now you have free space in your hard drive.
Download WizTree
Developer: Antibody software
Price:  Freeware
Size : 805 KB
Version :1.05
Want more free software products like this Read our  100+ Best Free Windows Software Programs Ever (Security,Media,Utilities….) post.