Windows operating system has more antivirus programs and anti-spyware programs which can be downloaded from the internet. Most of the antivirus programs are free, and some of them are paid ones. In the list of available Antivirus for Windows, Microsoft has its own offering, security essentials.
Microsoft Security Essential is free and Lightweight Antivirus app for Windows 10. It is more effective, light on resources and have done its job mostly in the background process without any interaction of users.
On certain occasions, you need more tools to get rid of these security threats, Download this portable Applications
For Tight Security: 5 Best Portable Antivirus and Anti-malware Software
Top 6 Free Antivirus Software for Windows 10 , 7, 8 in 2021

#1 : Microsoft Security Essentials Windows Defender in Windows 10
Windows Defender comes default bundled with Windows 10. Users don't have to download this, but you should download scheduled security updates to keep your system secure.
Microsoft Security Essentials to help guard against viruses, spyware, and other malicious software.
Comprehensive protection—Microsoft Security Essentials helps defend your computer against viruses, worms, Trojans, and other malicious software and provides you with free spyware protection.
Easy to get, easy to use—Microsoft Security Essentials is available at no cost, so there's no registration process that requires billing or personal information collection. It installs after a quick download and Genuine Windows validation and then stays automatically up to date with the latest spyware protection technology and signature updates.
Quiet protection—Microsoft Security Essentials doesn't get in your way. It runs quietly in the background and schedules a scan when your computer is most likely idle. You only see alerts when you need to take action.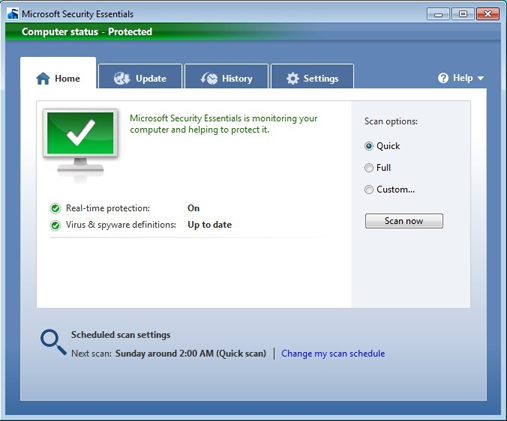 #2. Bitdefender Antivirus free Edition
Bitdefender Antivirus is an antivirus program designed to be fast and to minimize user interaction, while sacrificing nothing of the malware detection and removal capabilities that Bitdefender products are generally known for. By default, Bitdefender Antivirus Free Edition scans and cleans your system using only the resources that you, your software or your operating system are not using, thus achieving near-zero impact on your activities.
Download Bitdefender Antivirus
#3 : Avira Free Antivirus

Avira is the one of the best Antivirus program behind the Microsoft's 'Security Essentials'. Avira Free Antivirus eliminates many forms of malware including worms, rootkits, and costly dialers. Features include system scanner prevents infection from viruses, worms, and Trojans, blocks new viruses before they run and halts unknown code that looks suspicious, and click, run, and protect no awkward options express installation sets up your security system for you.
Note : Windows 8 compatible App will be released soon.
Download Avira Free Anti virus
#4 : ESET NOD32

ESET NOD32 is still one of the good anti-virus program for Windows, but it's not quite enough good as Security Essentials. ESET returns with high-level security that's light on your system. For a basic antivirus suite that's light on your system and tough on malware. ESET NOD32 Antivirus 5 is built on ESET's unique heuristic technology that identifies viruses that have never been seen before. This enables them to protect your computer proactively, in real-time, against new viruses and cyber threats that conventional signature based antivirus products don't catch.
#5 : Avast Free

Avast Free Antivirus is a full-featured product, with the same antivirus and anti-spyware scanning engine used in our premium products. Version 7.0 provides even faster protection than its predecessor and offers a web-reputation browser extension as well as virtualization technology. Accurate threat updates via avast. CommunityIQ technology ensure worry-free downloading, surfing, social networking, and gaming.
#6 : AVG Free

AVG AntiVirus Free 2013 also goes beyond detecting and removing viruses on your PC. Its 'AVG Do Not Track' feature gives you control over which websites can collect and use your data (available if you take AVG Security Toolbar as part of your installation). This feature joins Anti-Spyware and WiFi hacker-defeating technology to deliver powerful personal protection at home or on the move.
The new Interface optimized for Windows 8 looks better which is very friendly to users compare to prior versions.
Paid Antivirus Offers
Get Free kaspersky Antivirus for 90 days, Get Free Norton Antivirus for 270 days
Antivirus Malware Tests chart:
Don't Go Anywhere
If you have mobile Device, Make sure to check out the Best Five Antivirus Security Applications for Android Users (Based on the AV-Test Selection)
Updated on: Feb 2021