We have shared many Windows 7 skin packs prior to this post such as  AlienWare Windows 7 Skin Pack, Android skin Pack, Apple OS X Lion Skin Pack. In this post we like to share about the Xbox 360 Windows 7 skin with Metro User Interface.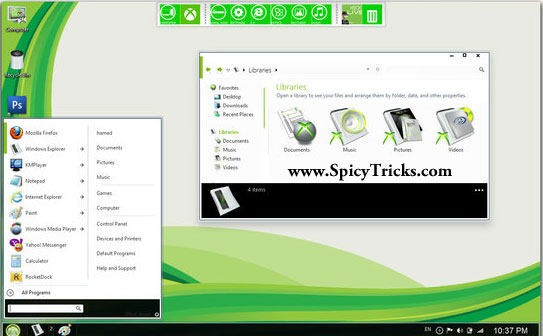 Metro Xbox 360 is new Windows 7 transformation pack, after the installation, you will get Xbox 360 user Interface in Windows 7.This skin pack also comes with an excellent boot screen, login screen, icons, mouse cursors, wallpapers, start ORB and dock utility.
It supports Windows 7 and Windows 7 SP1 System. You can get separate file for 32 bit and 64 bits systems.
Download Xbox 360 Metro Skin pack:
Download Metro Xbox 360 Skin pack (32-bit)
Download Metro Xbox 360 Skin Pack(64-bit)
Also Read: Top 10 Best 'Cars and Bike Windows 7 Themes'

MUST READ : How to Transform Windows 7 to Windows 8 Tablet Style