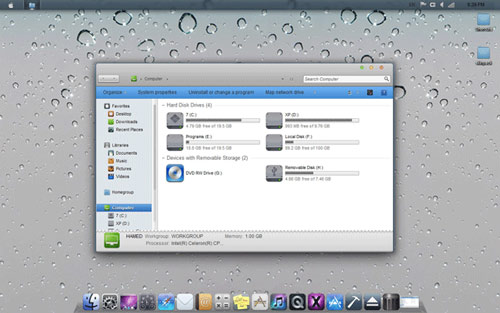 The final version of iOS 5 has been released already.Now we have something special for iOS fans – the iOS Skin Pack for Windows 7.This iOS skin pack is developed by hameddanger.Similar Author has already released Ubuntu 11 Skin Pack for Windows 7.
How to install iOS skin Pack for Windows 7:
First download and launch the EXE file and continue the process.Then you can go for quick installation or choose Custom Install option to uncheck unwanted items.
When installing this transformation pack, you will be presented with the option to install the UXTheme Patch, DLL files and other extra items (e.g. wallpaper, visual styles, etc). You may select all or some of these options to continue. For example, you may not be interested in installing a screensaver, wallpaper, etc from the pack.
To uncheck these items, expand the File and Extras options to deselect items.  When done, click Install to begin the installation process.
After installation is over,Reboot your system and enjoy with the new iOS style look in Windows 7.
Note: Please bear in mind that such transformation packs are difficult to uninstall and often a system restore point will not revert the changes. Before installing the iOS Pack, make sure that you backup your computer to revert the changes (if required). Moreover, make sure that UAC(User Account Control) is disabled.
Download iOS skin 32-bit
Download iOS skin 64-bit