Here are the Best free tools to monitor server health and performance for Sysadmins and Users. Find out the most commonly used Open Source tools to Monitor Server and Applications Performance. Using that get the details about SMTP, POP3, HTTP, NNTP, ping,MySQL CPU load, disk usage etc.
In case of interruptions caused by server crashes or overloads, network connections and other factors, these Open source Linux Server & Network monitoring tools can automatically send updates or activate backup copies . Also the intrusion detection system monitors to detect the network for threats from the outside.
Further more,Monitoring tools, like Applications Performance monitoring such as PHP, Web server- Apache-Nginx, MySQL, Postgres Performance monitoring is much-needed to one. Choosing the best Free Server Monitoring will save the system admins a lot of valuable time when fixing the problems.
Before spending money to monitor the Server and Networks, check out the following Free and Open Source Server and Applications Monitoring tools.
See Also: 5 Ways to find Top CPU Consuming Processes in Linux OS
Top 10 Best Free Server Monitoring & Application Performance Monitoring Tools
1. Cacti
Cacti is an Open source, Network Monitoring, graphical web tool. It is designed as a complete Front-end tool for data storage of RRD tool and graphical utility that allows users to monitor and graph CPU load, network bandwidth utilization, network traffic, and much more.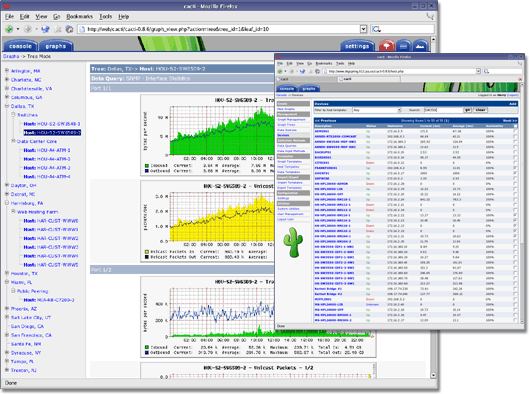 The Cacti frontend can host multiple users at a time, each with their own graph sets. Using this features Web Hosting providers( VPS, Shared Hosting) provide the CPU load, Memory utilization, Bandwidth and other data in Graphs for each users.
Cacti allows a user to poller services at pre-determined intervals and graph the resulting data. This Network Monitor tool offers two Backends, such as CMD.php a php script can be used for smaller server setups and "Spine", a C-based poller which can scale to thousands of hosts.
2. Nagios Core
Ngios is the most popular Free Monitoring tool for server and network performance. System admins consider the Nagios to cost-effective, customizable and productive monitoring tool. Also, you can get the help from the ITpros community, if you have any issues with it. However, installing, configuring and setting up the Nagios is complex process.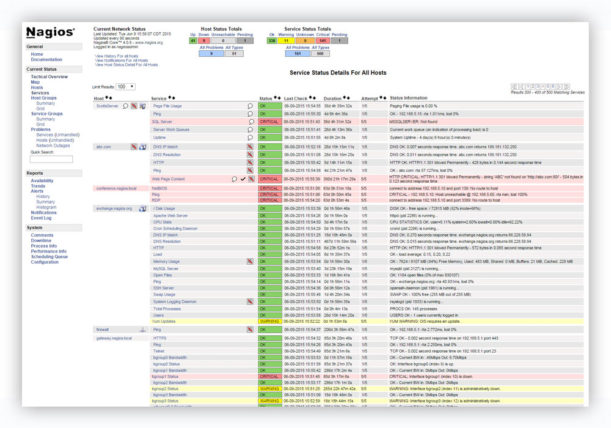 Once you complete the initial setup, it will start the magic of server monitoring and provides the detailed report.
It was originally designed to run on Linux, but other Unix variants are also supported. Nagios provides monitoring of network services for SMTP, POP3, HTTP, NNTP, ICMP, SNMP, FTP, SSH. Also you can get the reports for host resources such as processor load, disk usage, system logs.
It's very extensible (over 200 add-ons), relatively easy to use and lots of reports.
If the server has any issues or reception problems arise, the notification will be sent to the system admin or the person who is in charge of the network through email, SMS.
3. Munin
Munin is a popular open source daemon, which collects basic system performance statistics over time and stores the data. Like the cacti, Munin uses RRDtool to present graphical results through a web interface. It has a master / node architecture in which the master binds all the nodes at regular intervals and requests the data.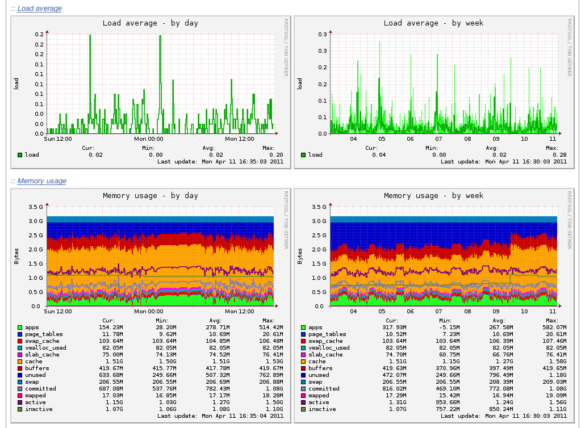 Using Munin, Free Server monitor, you can easily monitor the performance of your computers, networks, SAN networks, and applications. If there is issues in the performance, you can get view the graphs to know what is happening inside your server. One of the popular choice for web server monitoring among the VPS hosting users.
Munin comes with support of plugin architecture, you can use those Monitoring plugins to further enhance your server monitoring solutions.
4. Zabbix
Zabbixit is a kind of enterperise class Free Server Monitoring mechanism that is fully equipped with many useful features. It has commercial support.
Zabbix allows users to check the availability and responsiveness of services, such as SMTP or HTTP, Without installing any software on the Monitoring Server host. To get server statistics like CPU load, network utilization, and disk space, you have to install Zabbix on Monitoring host. Zappix allows you to monitor the server via SNMP, TCP and ICMP checks, IPMI and any other custom parameters.
It is able to monitor and track the status of different types of network services, servers and other network hardware. To store monitoring data, you can use MySQL, PostgreSQL, Oracle, or SQLite as your database.
5. Zenoss
Zenoss(Zenoss Core) is a server and network management Tools that combines original programming and several open source projects to integrate data storage and data collection processes via web-based user interface.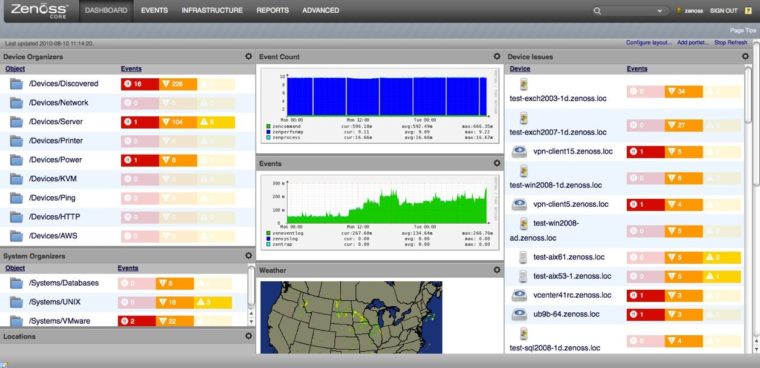 Zenoss Core is able to monitor the availability of network devices through SNMP, SSH, WMI, network services (HTTP, POP3, NNTP, SNMP, FTP) and host resources (processor, disk usage) in most systems network operations. You can also extend the Zenoss using the available plugins .
6. COLLECTD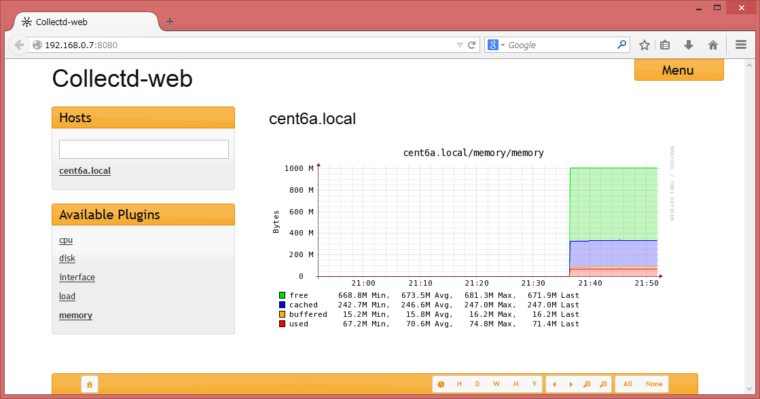 CollectD is a popular open source Server Monitoring daemon. Over the period of time, It collects system performance statistics and stores the data in multiple formats, such as the RRD files. You can use that data and integrate with a graphing tool, such as Graphite, Grafana, or Cacti.
Monitor and predict system load over time,find performance bottlenecks, and will send the alerts to the Admin.
7. OpenNMS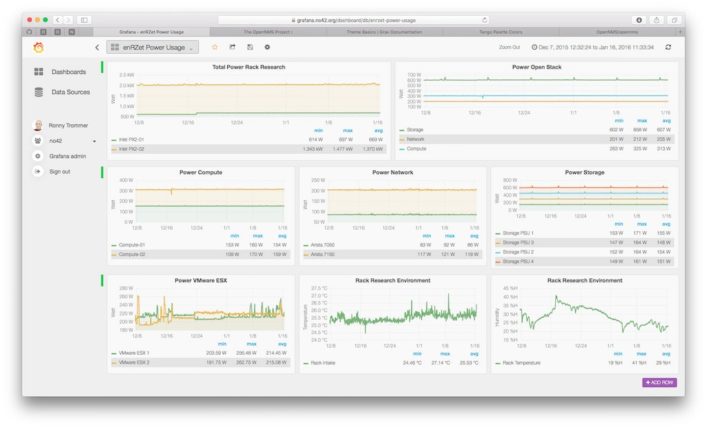 OpenNMS is highly integrated, open source platform designed for Network Monitoring Application for enterprise level solutions. Users of Open Source community, and OpenNMS group have developed the openNSM. Since it is Opensource, there are no maintenance or upgrade costs. Just download the package and use it on your server or modify the code based on your needs.
All performance data can be graphed to easily identify problem areas within your network and servers. OpenNMS is a truly distributed, scalable management application platform. It offer so much of features, using that one can monitor and manage the biggest Network from central server.
8. GANGLIA
Ganglia is Popular Opensource Monitoring too for high-performance computing systems, clusters and networks. It is bundled with enterprise-level Linux distributions such as Red Hat Enterprise Level (RHEL), cent OS.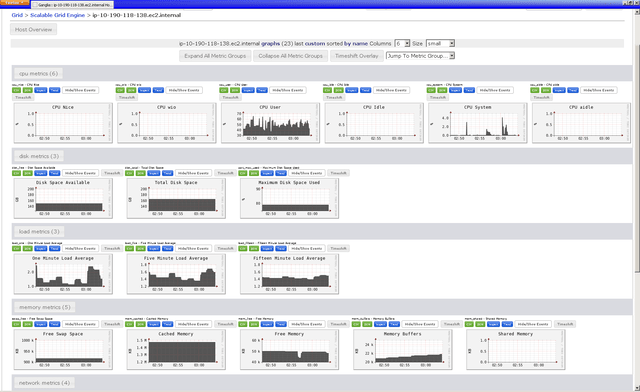 Ganglia is scalable, distributed monitoring tool to view either live or recorded statistics covering metrics such as CPU load averages or network utilization for many nodes.
Ganglia Monitoring Daemon (gmond) is a multi-threaded daemon which runs on each cluster node you want to monitor. It offers the PHP Web front-end display which provides the view of the gathered information via real-time dynamic web pages
You can view the data in the graphs over the period of past hour, day, week, month, or year for CPU Utilization, memory usage, disk usage, network statistics, number of running processes, and all other metrics.
9. Check_MK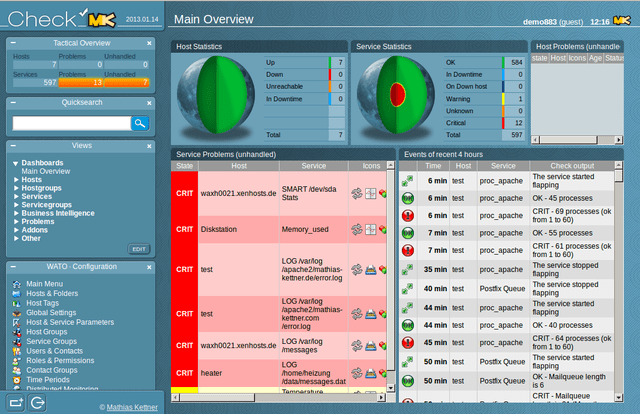 Check_MK is an extension to the Nagios monitoring tool we've seen before in this list. It allows creating rule-based configuration using Python and offloading work from the Nagios core to make it scale better. That means Check_MK is allowing more systems to be monitored from a single Nagios server.
10. Icinga
Icinga was originally created as a fork of Nagios server monitoring Application. It is Open source System monitoring and application monitoring tool, added many new features over the Nagios.
It offers more database connectors (for MySQL, Oracle, and PostgreSQL), and a REST API over Nagios with improved Web interface. Using this new API feature, System Admins and user can easily integrate numerous extensions without modifying the Icinga core directly.
It Monitoring of network services (SMTP, POP3, HTTP, NNTP, ping, etc.), and host resources (CPU load, disk usage, etc.). Also Using this you can monitor the server components (switches, routers, temperature and humidity sensors, etc.)
If there is any problem with the server, it will send the notification via email , SMS or any user defined method.