There is no argument that Google Chrome has led from the front in the browsing Industry. It offers many features, and you can expand the browser by installing best Google Chrome Extensions.  Most of the times, You can get all those features in other browsers like Firefox. But you can't get the default Google Auto Translate feature in any other browser. Firefox offers many Translation Add-ons, none of them equivalent Chrome's Default Auto Translation feature. s3 Google Translator is the new Firefox Add-on that gives same Auto Translate feature in Firefox like Google Chrome
Also Read:  25 Best Firefox Add ons; Popular and Useful for All Users
See Also : 25 Best Chrome Extensions and Apps
What is it and How it will helpful
S3 Google Translator is the Firefox Add-on that using the Google Translate service to provide Auto- translation whenever you visit foreign language websites. Install this Auto-Translate Firefox Add-on from the Official Firefox Add-on website. After the installation, it will request you to restart the browser.
After that, The Firefox will load with S3 Translator Add-on in the Top of the browser. You can control the S3 Google Translator Add-on using the Options. The options window will provide you the settings to hide the panel and changing the Auto-translation settings of the website.
How to initiate the Auto Translation Feature in Firefox
In the Default settings, whenever you visit the foreign language websites, you have to activate the Auto Translate feature for the first time for each Foreign language website. In the second time onwards, this Firefox extension will automatically translate the website to your language like Google Chrome.
First Visit the Foreign language website and Activate the Auto translate the website settings by clicking the S3 Google Translator Icon in the Firefox.
After that, the prompt will open and asking you that this extension will connect you to Google Translation service. Just click 'Ok" to Continue. See the Screenshot below
That's it. Hereafter, whenever you visit that website, this Firefox extension will automatically translate to your desired language
Example: Google Japan Website Translation to English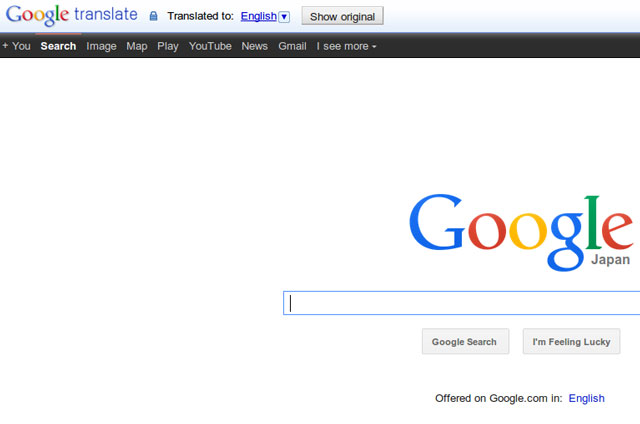 Selected Text Translation Feature
This extension also come with another useful feature "Selected Text Translation". Yes! you can translate the particular paragraph in the Webpage using the selected text translation feature. Shortcut Keys are also available for the quick Translation.