Panda Security gives the 6 Months of giveaway of their security product "Panda Gold Protection 2021" worth $96 as a promotional offer. That allows you to use their Internet security product for 180 days in your computer.
The promotional Giveaway comes with pre-installed Serial / Activation keys that are valid for 6 months. We have previously posted about the Free edition of Panda cloud Antivirus in our 100+ Best Free Windows Software collection. Access that list to get more free Windows Applications for your daily usage.
About Panda Gold Protection 2021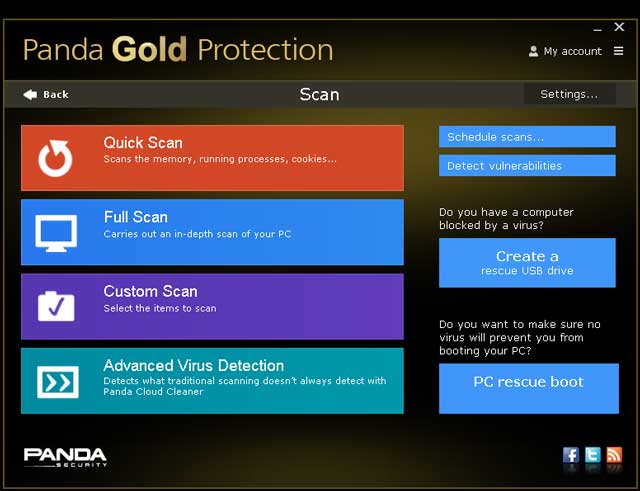 Panda Gold Protection 2021 has the Panda Antivirus and Panda Internet security  in one Place. You can enjoy the maximum protection with this one product.  Use this Security Application to identity  and protect your computer from all Internet threats. It Protects you and your system against viruses, online fraud, identity theft, unsolicited emails and cyber-criminals.
See Also:  5 Best Portable Antivirus and Anti-malware Software
Features of Panda Gold Protection 2021
Panda Security Application is light-weight and installs smoothly in your system. This latest Panda Gold Protection has the simple, modern interface. You can find all the security tools in one place which is convenient for the users.
Panda Gold Protection comprises the Panda Internet Security which protects you and your family from online threats. It filters out the malicious, fraudulent websites. You can get the full protection when you browse the Banking and shopping websites.
Key features
Protecting your PC from spyware, phishing (online fraud), root-kits (stealth techniques) and banker Trojans.
Provides the Real-time protection
Scans your Pen drive for viruses and delete the Dangerous programs
Provides protection for Banking sites
Filters the Malicious websites
How to Get Panda Gold Edition Activation Code License Keys for 180 days
The one year License fee of Panda Gold Protection  is $96. As a promotional offer , You can get this Internet security 2021 for 6 months using direct setup file installed with registration keys.
Download this Panda Gold Edition direct link
Once you download this free Gold Protection 2021, install it in your system. Since, it has been pre-installed with Serial / Registration keys, you don't need to manually enter the license keys.
In this initial launch of this Software, it will ask you to activate 6 months Trail Protection. Click the Activate button to get the 180 days full system protection.
Our Prior Antivirus Giveaway offers:
Get 90 Days Free Trail of Kaspersky Internet Security 2021 License Keys
Also See : Get 180 Days Free Trail of Bitdefender Internet Security 2021