Do you know that Tracking system Temperature will increase the system performance? Yes, Certainly Tracking the system resources will help your to determine what resources have eaten up system performance. Moo0 SystemMonitor is kind of Windows Utility will help you monitor all your system Resources.
What is it and How it will help
Moo0 System Monitor will help you to keep your eye on system resource usages of your Computer. This free utility currently monitors 36 kinds of information including CPU, Memory, Network, and detailed HDD usages. So It will give you the clear picture of your system about what is limiting your system performance in each occasion.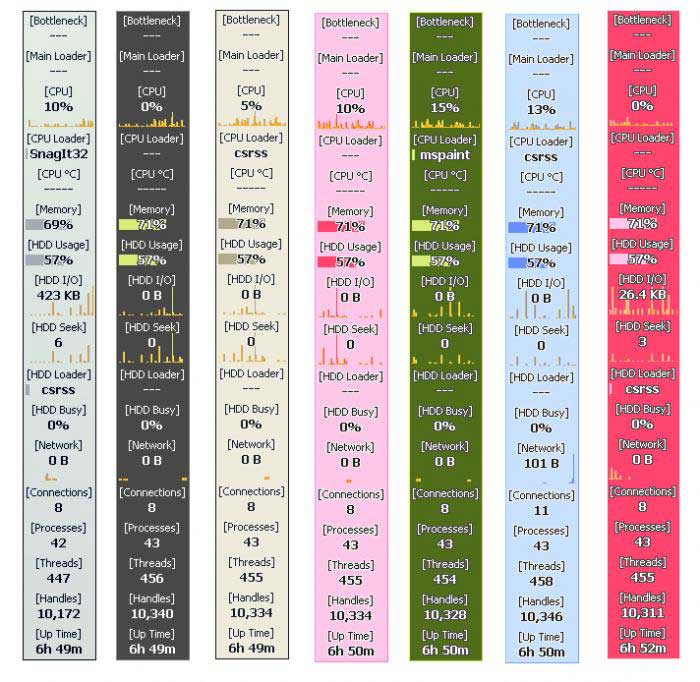 Download and install this app. Its user interface is very different from any other windows application. Moo0 System monitor will launch the Vertical bar UI, its size, layout can be changed to fit your screen. Also, this app offers many skins to choose for you to match your system theme or something different. Just Right click on the System monitor, that will show you the mega lists of menus that will show all the options.
Most Interesting Features of Moo0 System monitor
It is light on system resources
Tracks System Temperature, HDD RPMs, DL/UP speed, read/write
It is fully Customizable and you can set transparency in app display
You can select processor, graphics, memory, fans, HDD Sensors to monitor its usage
When you install this application, it offers additional software, just skip it and install only the system Monitor. Launch this app and select your desired monitor tools by right-click on the application window. That's it, this application will keep monitoring your system resource usage and gives you the report. Useful feature Bottleneck display, turns red and shows system hogging resources at the moment problems occurred.
Based on the report, you can manage your system settings to keep down the resource usage to get better performance and system speed in Windows.
If you get red flags often,
This app has the two color code alert, Green for the optimal system performance (Satisfactory) and Red for the spikes and resource issues which quickly provides a visual flag for areas to investigate.
 Conclusion and Download
Overall, this app gives much-needed resource monitor report, which gives the detailed analysis of what's happening in the internal part of your system. Using that report you can cool down your computer using some cooling pads for your laptop and certainly it will boost your battery life and system performance.
Supports : Windows Xp,Vista, 7, 8