There is a lot of FTP Client Programs available to choose for you to Transfer the files, but the one stand out of the Crowd is the "FileZilla" which is the best FTP Client for any operating system. It was Started as a computer science project by Tim Kosse and two classmates. They decided to release the code for the public use, and they licensed it as open source project.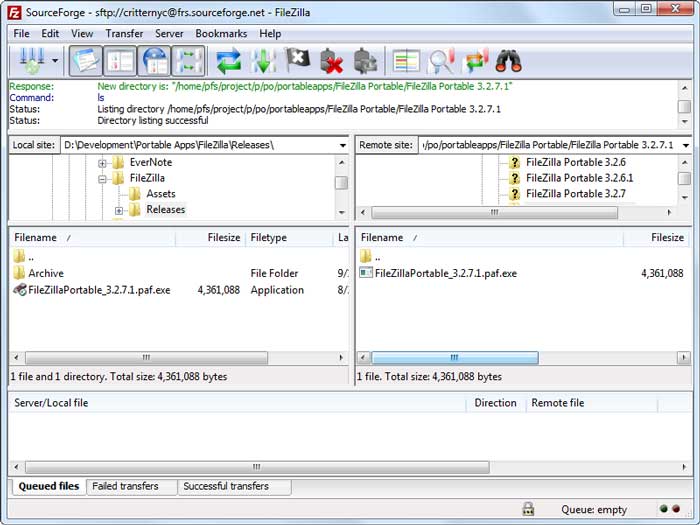 FileZilla Client is a fast and reliable cross-platform FTP, FTPS and SFTP client with lots of useful features and an intuitive graphical user interface.
As a WordPress developer, I have been using this tool for the past Five years, and it is the best FTP client by far compare to any other clients. I've used the many FTP clients when working with many client projects, but the one still I'm using the FileZilla as my FTP Client.
Many of the novice users have not liked the  FileZilla's interface. It's because of  it has much more advanced FTP functions in the user Interface and unlike much simpler other FTP Clients like cyberduck. At the same time, it is remarkably simple to use, and it is more powerful that any other.
It is pretty fast when uploading multiple files to your server or Downloading multiple files to your computer. It has nice built-in file browsers and has the options to view or edit the file with just one click. You can also set file transfer type as Auto, Binary, ASCII. If you have a problem with the FileZilla when transferring the code like breaking the code, transfer the PHP with only single line or File with no Carriage Return, then set the binary as default transfer file type. It will fix all the above FileZilla problems.
Key Features
Easy to use
Supports FTP, FTP over SSL/TLS (FTPS) and SSH File Transfer Protocol (SFTP)
Cross-platform. Runs on Windows, Linux, *BSD, Mac OS X and more
IPv6 support
Available in many languages
Supports resume and transfer of large files >4GB
Tabbed user interface
Powerful Site Manager and transfer queue
Bookmarks
Drag & drop support
Configurable transfer speed limits
Filename filters
Directory comparison
Network configuration wizard
Remote file editing
Keep-alive
HTTP/1.1, SOCKS5 and FTP-Proxy support
Logging to file
Synchronized directory browsing
Remote file search
Bugfixes and minor changes in the New version of FileZilla:
Download: FileZilla 3.6.0 | (4.06 MB)