There is no doubt that iPhone is the world's most favorite and Popular handheld device. iPhone has packed with latest technological features. Apple has kicked off the Smartphone Industry with the iPhone, and which is the main reason for What is happening today in the smartphone world.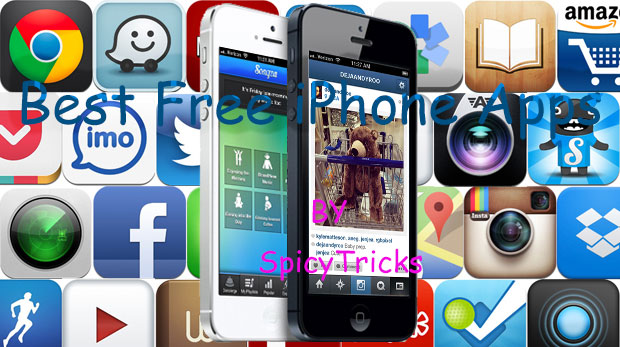 What's more special with iPhone is that has lots and lots of useful, productive and Fun apps at the one place in the App store. You can find mostly any app from the App store for your iPhone, it could be the app that brings the latest news, awesome music videos, and connect to your friends with Facebook and Twitter, and even make the video call with Skype and lot more. So It is possible to make your iPhone experience to the best with these following best free iPhone apps.
How to Download Free iPhone app
Here's a collection of some of the most popular iPhone apps for iPhone users. Just download this cool Apps for iPhone using the iTunes App store links provided by us and enjoy. Most of the Apps are compatible all other iOS devices such as iPod Touch, iPad and iPad Mini. This list has been curated based on following criteria like the  most downloaded iPhone apps, Most Rated iPhone Apps and Our Editor' pick with personal Experience.
This List has been updated Periodically with New iPhone Apps. So Bookmark this Page or subscribe to our Free Email Newsletter.
Recommended Post:  Best 25  Free iPad Mini Apps Most Useful
The Best Free iPhone Apps Downloads Collection:
1. Flipboard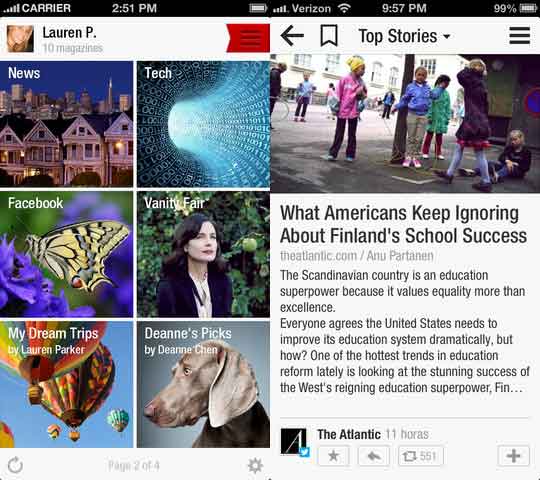 Whether it is Android or iOS, Flipboard is one my favorite app to get latest updates all around the World. It has quite a fascinating user interface. Really, I Love a lot what they have put in the design, and it gives amazing user experience. The most interesting feature from Flipboard is that you can get news and social networks updates in one place. Flipboard allows you to save anything to read later using Instapaper, Pocket and Readability. Using this App, you can explore many staff picks in the Content Guide, including must-read magazines and blogs, gorgeous photography and special curated sections devoted to the news of the day and other topics of interest.
Download Flipboard (iPhone,iPad,iPod)
2. Google Maps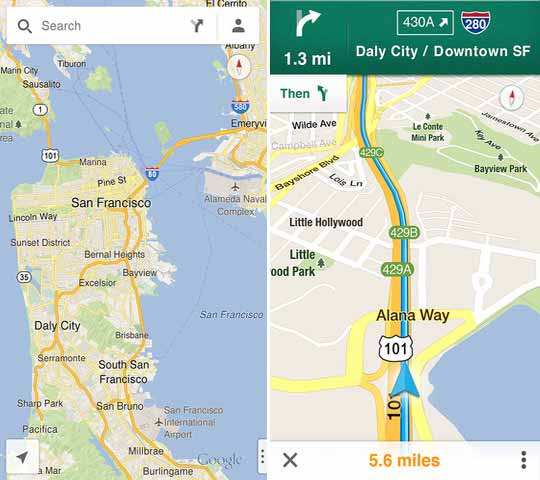 Google Maps come back after a while to App store. The new Google Maps offers a number of enhancements beyond what was offered when it powered the built-in Maps app on iOS 5 and earlier, most notably turn-by-turn directions and street view.  By using Google Maps to find great places to eat, drink, shop and play, with ratings and reviews from people you trust.  You can view your past searches and save your favorite places by sign in to Google account.
Download Google Maps (iPhone,iPad,iPod)
3. Twitter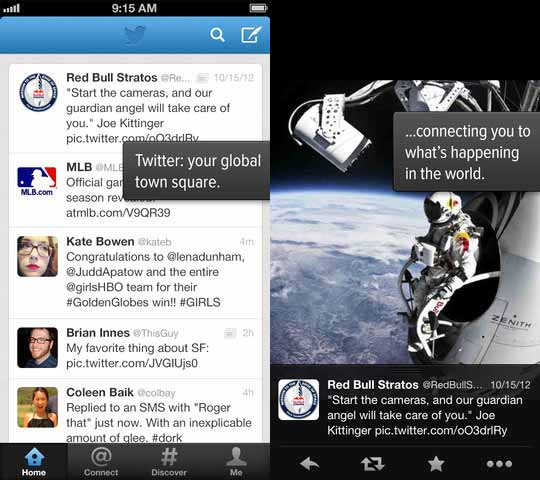 Get real-time updates from your friends, experts, celebrities,  favorite sports persons and news around the world etc. Download this official Twitter app and Follow people and your interests to get unfiltered access and unique behind-the-scenes perspectives.
Download Twitter (iPhone,iPad,iPod)
4. Facebook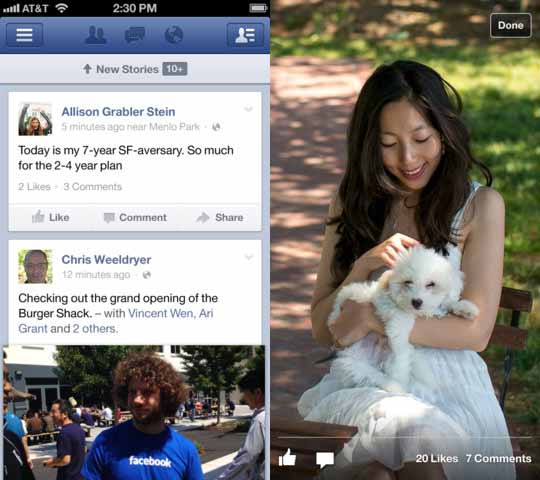 This Official Facebook keeps you connect with your friends. Get real-time notifications and Share updates, photos, videos with your friends. You can text and chat and can make group conversation with your friends. Also, you can play Facebook games and gives access to use apps.
Download Facebook (iPhone,iPad,iPod)
5. Evernote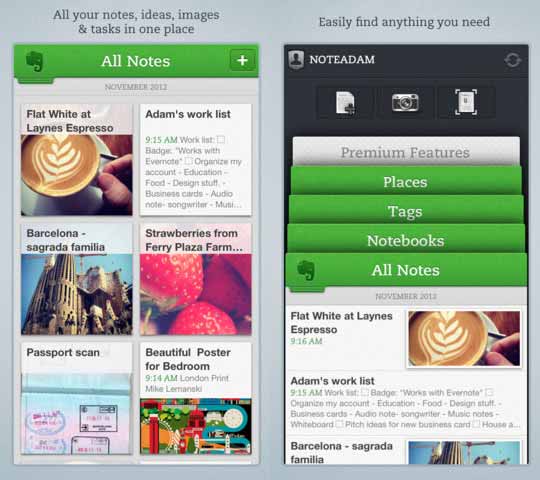 Evernote is an easy-to-use, free app that helps you remember everything across all of the devices you use. Stay organized, save your ideas and improve productivity. Evernote lets you take notes, capture photos, create to-do lists, record voice reminders–and makes these notes completely searchable, whether you are at home, at work, or on the go.
Download Evernote  (iPhone,iPad,iPod)
6. Skype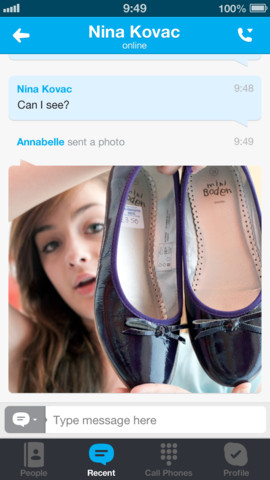 The Skype app is a great mobile video or voice chatting solution on the iOS devices. You can use both front and rear cameras to chat with beloved ones or with colleagues. You can also send photos on your iPhone directly to friends or family via Skype.
Download Skype (iPhone,iPad,iPod)
7. Wi-Fi Finder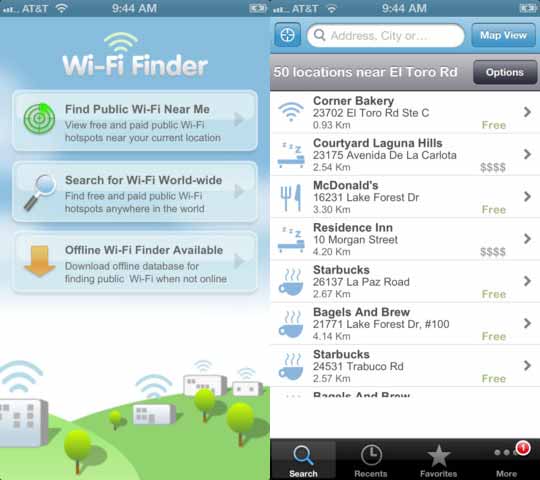 Quickly and easily find FREE or paid Wi-Fi in 144 countries over Over 650,000 locations. Using the GPS function on your iPhone, the Wi-Fi finder will tell you exactly where the closest Wi-Fi hotspot is, and how to get there. You can filter the results based on type, provider and save the results your favorite.
Download Wi-Fi Finder (iPhone,iPad,iPod)
8. Find My iPhone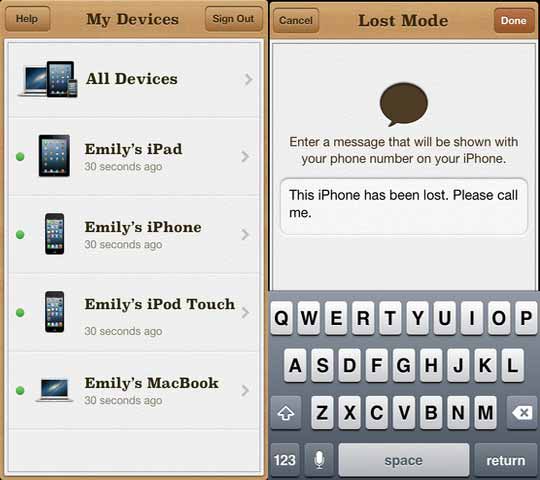 Locate your iPhone, iPad, iPod touch, or Mac on a map. Just send a message to play a sound for two minutes at full volume  even if your device is set to silent. In addition, You can lock your iPhone remotely from anywhere and also you can wipe out entire data in your iPhone remotely. If the iPhone, iPad, or iPod touch you want to locate is running iOS 6, Find My iPhone also includes Lost Mode. Lost Mode locks your missing device with a 4-digit passcode and can display a contact phone number right on the lock screen.
Download Find My iPhone   (iPhone,iPad,iPod)
9. Fast Keyboard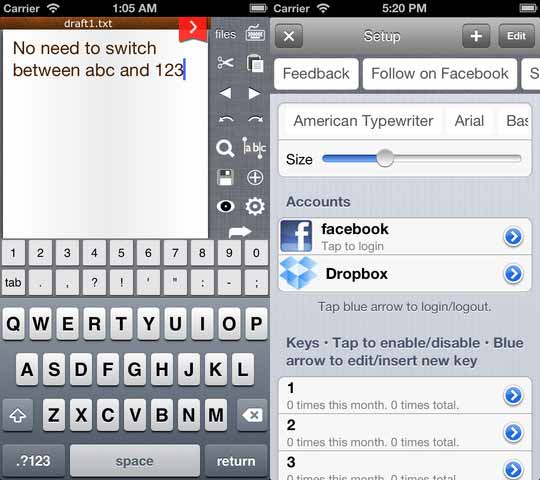 Fast Keyboard is a text editor that gives you a special keyboard and amazingly high productivity. On top of the standard iOS keyboard, you will get two rows of additional keys, including numbers, symbols, unicode symbols, frequently used words, and even email/article templates. And the text you wrote links to Dropbox, Facebook, Twitter and other apps.
Download Fast Keyboard (iPhone, iPad,iPod)
10. Scan Pages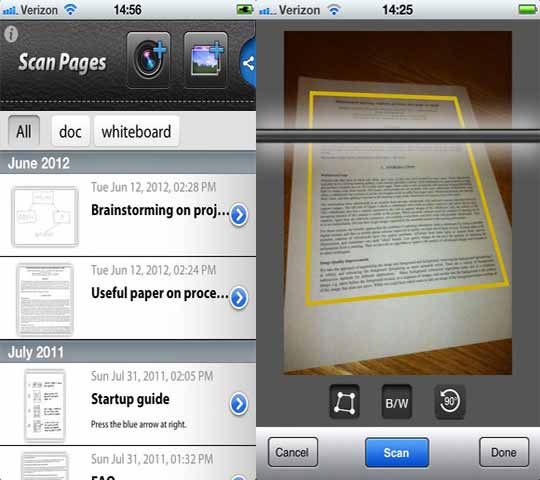 Transform your iPhone into a mobile scanner by using this amazing Scan Pages iPhone.  Scan Pages organizes and cleans the captured mobile images using advanced image processing technology, and allows you to combine them in a PDF file and store in GoogleDocs, Evernote, Dropbox or share via E-mail.
11. Epicurious Recipes & Shopping List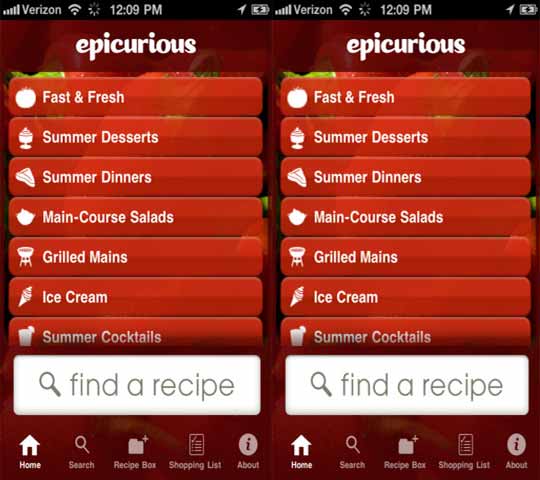 Get recipes from the award Winning Epicurious site. You can search over 30,000 delicious, professionally created recipes from Bon Appetit, Gourmet, Self, and renowned chefs and cookbooks. You can save your favorite recipes in this app and share with your friends. In addition, this app allows you to create Shopping lists to yourself and your friends. Use the  Search screen to filter by what's in your fridge, what's healthy, what's in season, what holidays are coming up, and more.
Download Epicurious  (iPhone, iPad,iPod)
12. iPeriod Free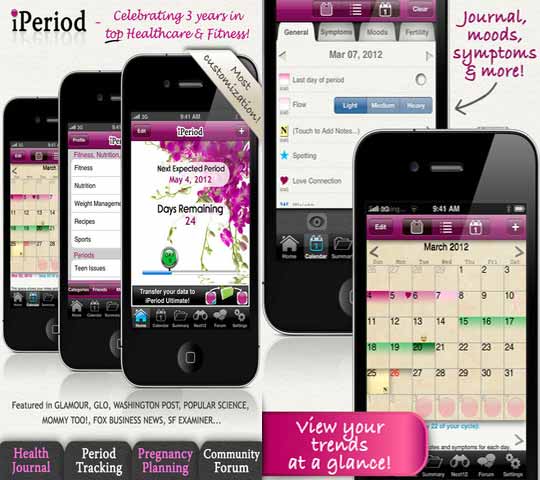 iPeriod is the must have a personal assistant for every women to fastidiously track their monthly cycles and more. This app has beautiful VISUAL CALENDAR which shows the menstrual cycle elegantly with emoticons, unique icons symbolizing your symptoms, expected periods, fertile days, ovulation and more. This app has the password protection to keep secret your personal Infos. And offers lot more features like pregnancy mode, Tracks SYMPTOMS and moods,ALERTS you when your period is expected or late.
Download iPeriod Free  (iPhone, iPad,iPod)
13. TuneInRadio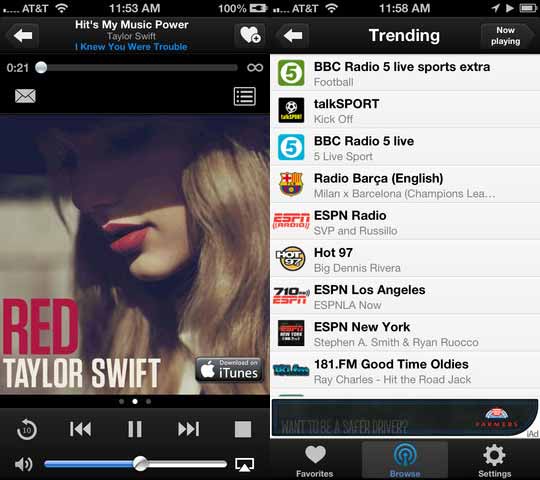 You can listed almost listen all radio stations whether it is local or world. You can tune in every station, search by city, station name, frequency.  Enjoy 70,000 live radio stations and 2 million podcasts, concerts or shows on your iPhone, iPad and iPod, all for free.
 Download TuneInRadio (iPhone, iPad,iPod)
14. MarketWatch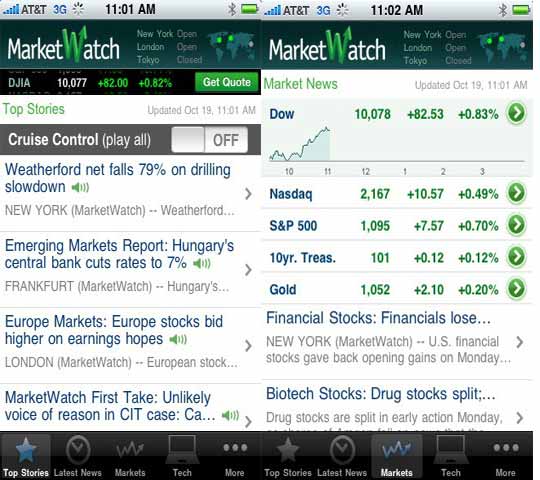 Get Real Time Market Commentary and read breaking markets, business news headlines, full-stories throughout the day. MarketWatch app's editorial page brings you day's most important stock news with business news, the real-time quotes, and markets analysis and insights. Text-to-speech feature allows you to listen the top stories. In addition, this app provides customizable market data Watchlist.
Download MarketWatch (iPhone, iPad,iPod)
15. Snapseed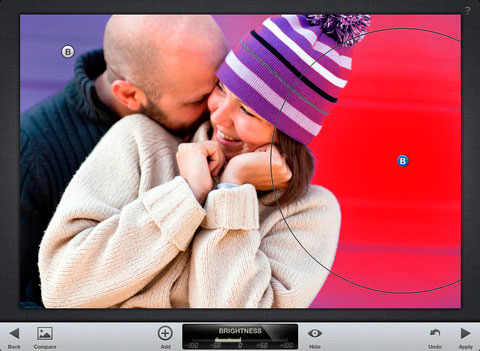 Snapseed is the first class Photo editing App for iPhones users. This free Android app has many features compared to Adobe Photoshop express. Snapseed offers an incredible level of control over its effects and filters.  It makes any photograph extraordinary with a fun, high-quality photo experience right at your fingertips. This is must have app for any iPhone user, to retouch their photos to the pro level.
Download Snapseed (iPhone, iPad, iPod)
16. 

Pixlr-o-matic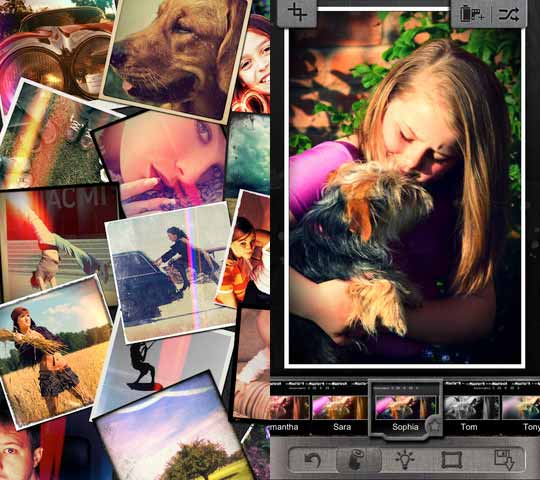 Pixlr-o-matic is the amazing the image editing app with over  2 millions combination of effects and filters and more. Just install this app in your iPhone and you will always have a professional photo editor with you at zero cost.   It easy to add an effect, overlay and border to get that retro, grunge, clean or stylish look in your photo  to turn your ordinary photo to something stunning shot. This app offers one cool feature called Randomizer that will select an effect, overlay, and border for you in just one tab. You can also directly take photo with in the app, and it have the option to share your photos with popular social networks.
This app gives the PLUS as an in-app purchase that will add the additional effect, overlay and border packs.
Download Pixlr-o-matic (iPhone, iPad)
17. Adobe Photoshop Express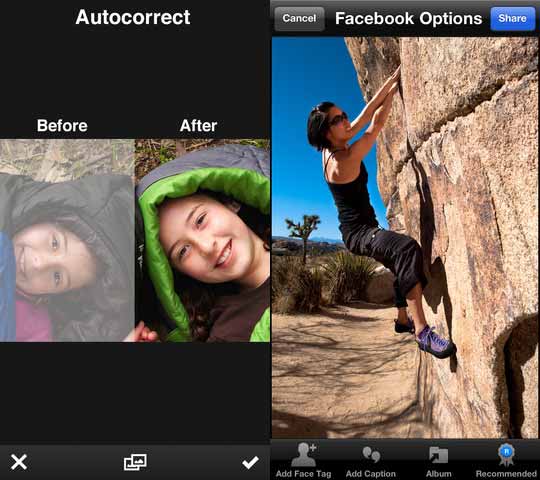 Photoshop Express gives you the excellent and quick way of editing photos on your iPad. There are many features available in Photoshop Express that allows you to Crop, Straighten, Rotate, and Flip or adjust color of your photo. This app offers many filters such as artistic filters like Soft Focus or Sketch. You can get the professional photo editing effects by purchasing the Effect Pack (in-app Purchase).
Download Adobe Photoshop Express (iPhone, iPad)
18. Nirvana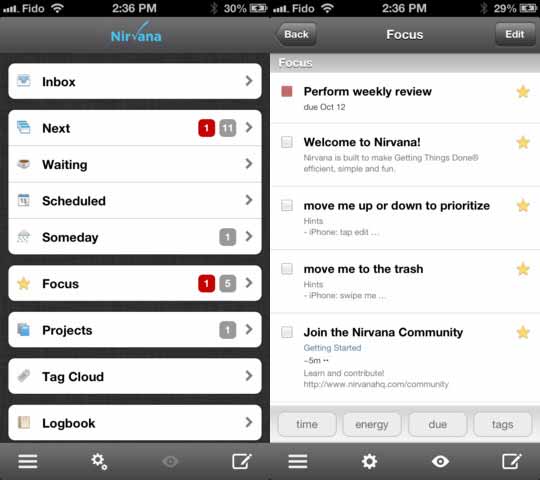 Nirvana is a GTD task manager for Getting Things Done. Capturing thoughts whenever they occur and confidently drilling down to the thing you should be doing right now is at the heart of Nirvana — freeing your mind to be in the moment and focused on the task at hand.
This app is the mobile extension of the critically acclaimed, cloud-based Nirvanahq.com desktop app — the trusted system of thousands around the world, always in-sync, and now always with you.
Download Nirvana (iPhone, iPad)
19. Jasmine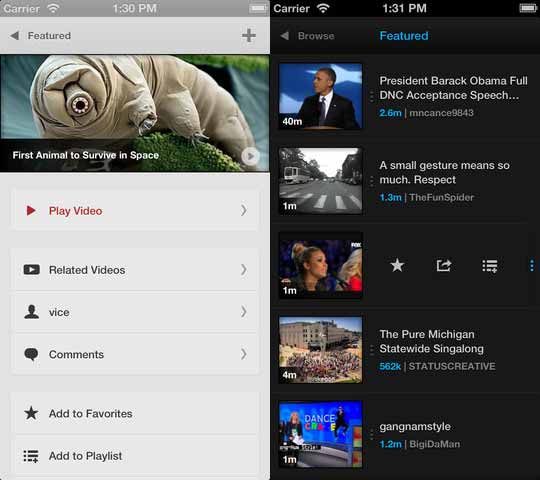 Jasmine is a full-featured YouTube client for iOS. This could be better YouTube app than official one. This app has nice responsive user interface. Jasmine has Night theme & dimming support for browsing in low light. It will remember the last played position of the video to continue the playback. it has full support for YouTube Playlists. This app has parental control feature to manage your kids YouTube activities. This app provides the Aggressive filtering for comment spam and channel promotions.
Download Jasmine (iPhone, iPad)
20. Pocket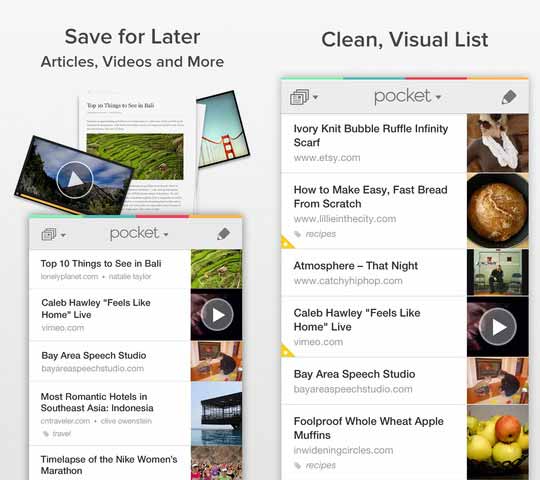 Pocket has the same concept of instapaper like when you find an interesting article, video or web page that you want to read, watch or view later, you can put it in Pocket App. Once it's in Pocket, it automatically syncs across to your phone, tablet and computer so you can view it anytime on any device, even without an internet connection.
21. Netflix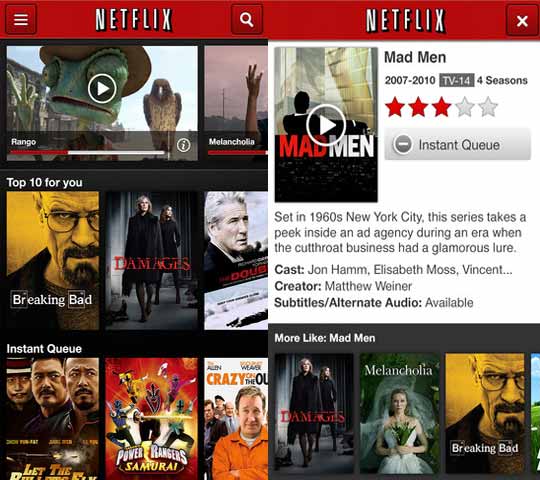 Netflix is the world's leading subscription service for watching TV episodes and movies on your iPad Mini. This Netflix app delivers the best experience anywhere, anytime.
 22. Simple Note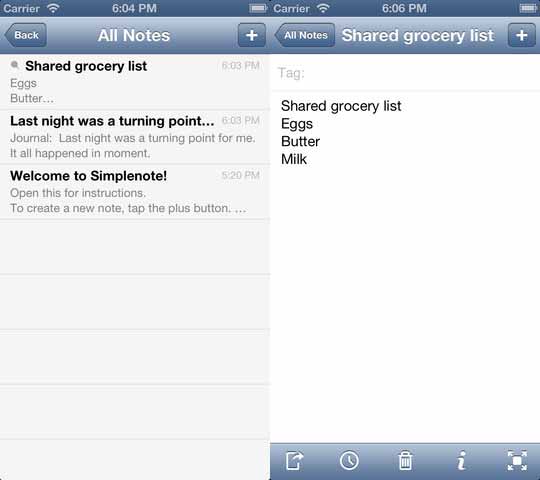 Simple note is a minimalistic iPhone app to keep notes, lists, ideas and more. Your notes automatically synchronize with your computer and all your devices. It's extremely easy to use. For those who want more power, you can also use tags, pins, versions, and sharing.
23. Chrome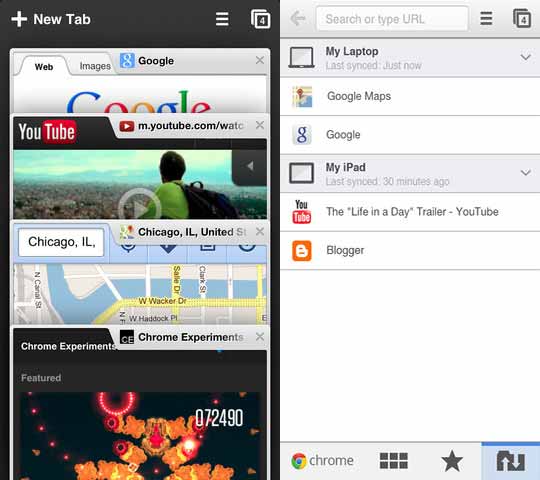 Simpler, Faster and safer browser app for all your iOS Devices. You can open unlimited tabs in chrome unlike Safari's 8 Tab restrictions. Sign in to sync your personalized Chrome experience from your computer, and bring it with you anywhere you go. Send pages from Chrome on your computer to your iPhone, iPod touch, or iPad with one click and read them on the go, even if you're offline.
24. Words With Friends Free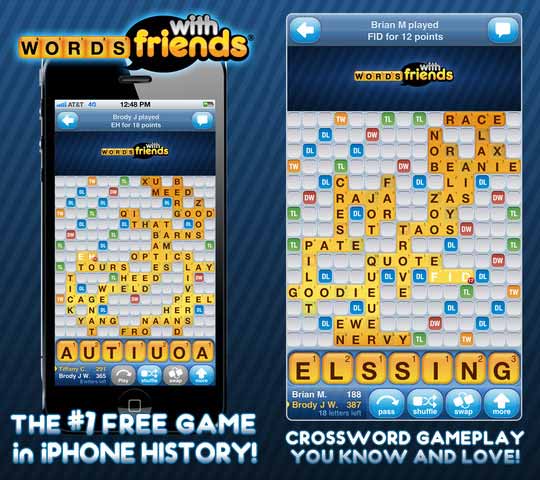 "Words With friends" is one of the most popular free iPhone game. Join with more than 20 million people , who are addicted to the word building, triple score seeking, chat bubble sending goodness of Words With Friends. Everyone who owns an iPhone or iPod Touch should have this game on their device.
25. RxmindMe Prescription / Medicine Reminder and Pill Tracker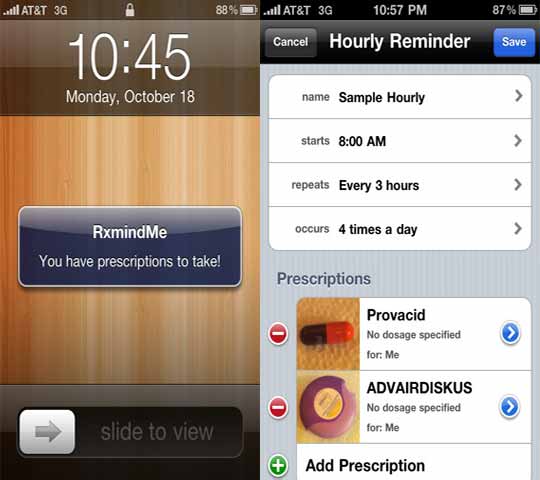 RxmindMe is the iPhone Prescription Reminder App for your iPhone! Get reminders on your phone no matter what App you are running! Now you can download this app for free. This app allows you to enter all your prescriptions, setup reminders, and track when you have taken them. You can set alerts with different timings like Every "X" Number of Days, Hourly, Daily, on specific dates, weekly, on a particular day of the month, as needed, on a particular week of a month, or even just recording pills you took out of the blue.