Finding the Best Whatsapp Alternatives is the main goal of this post. There are plenty of Whatsapp Alternative messaging Apps out there with a lot of specific and unique features. Choosing the best Alternative for WhatsApp hugely depends on your needs, security, privacy.
Furthermore, The users need security and privacy which are very important. Those two plays very important role, because the messaging apps carries your day-today life and work information. Probably, You may be a professional, lawyer, Journalist or any other worker. However, the information you are sharing via Whatsapp messaging App should be safe and the service provider should not collect your personal information.
After the Facebook bought WhatsApp for whooping $19 billion in the month of February, their main Goal is clear that WhatsApp's ever-growing billion user bases. It is basically WIN-WIN situation for both Facebook and WhatsApp. But users feared that their data is now in Big hands and Eventually Facebook will use it to grow both services.
Many of them left the WhatsApp and searching for the best Alternative to WhatsApp messaging App service and  they found it too. There are plenty of free messaging service Apps out there in the App markets which provide more features, encrypted messaging and full Privacy options.
Recommended : Make Free Video calls and Voice calls using Video Calling Apps on Android Phones
Recommended : Best Free Android Apps Of All Time Ever! A-Z Categories [Must have]
Lets see the Best 10 Apps Like WhatsApp.
10 Best Whatsapp Alternatives for You
 1. Telegram
Instant Message provider "Telegram" has most promising entry in the messaging World. The users message are heavily encrypted and can self-destruct in Telegram. This messaging app is cloud-based messaging service which powers you to access the service from any device and web.
The Whatsapp Alternative "Telegram" messaging app service is built by a Berlin-based nonprofit organization and they said that the service will be free for all time and  no advertisements or subscription fees will ever be levied on customers.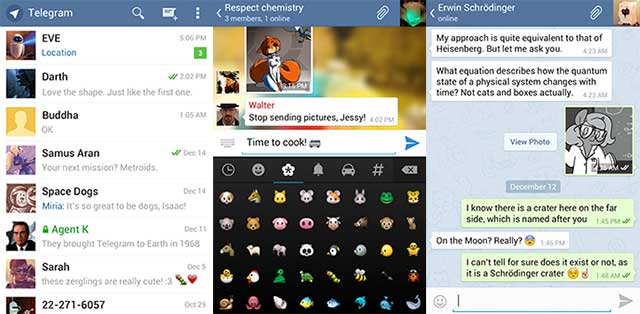 It offers many unique features like Secret Chats, featuring end-to-end encryption to ensure that a message can only be read by its intended recipient. When it comes to Secret Chats, nothing is logged on our servers and you can automatically program the messages to self-destruct from both devices so there is never any record of it. It only needs fewer bytes of data to send messages, so you can use this messaging app in weakest internet connection easily.
Telegram is the cross-platform application, you can install this free messaging app for your Android and iOS devices.
2. Line Messaging app
Line is one of the most popular messaging app service provider which gives free voice calls, video calls and free messages to users.  This app has more than 430 million users worldwide and is used in over 231 countries! If you and your friends have Line App, You can make Free Voice calls and Video calls World-Wide.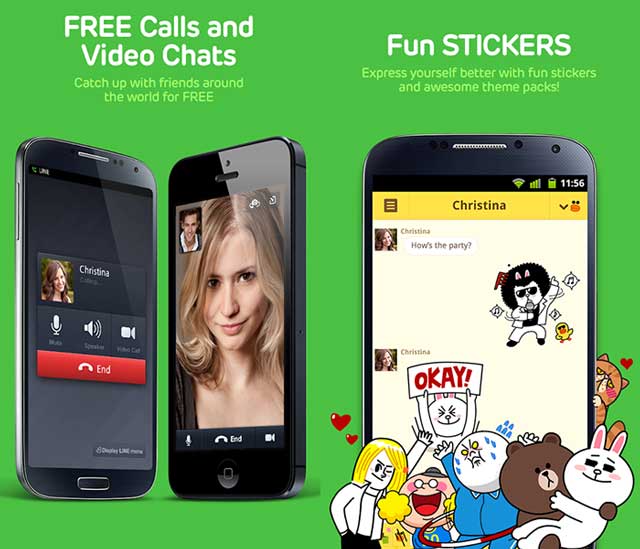 LINE's message function to send messages easily with colorful icons, photos and even location information. It offers many funny stickers via the In-App-Purchases. They are awesome and use that communicate effectively with your loved ones.
Line Messaging App is available in iOS, Android, Windows Phone and Blackberry
3. Wickr
Wickr has claimed that they are the Top Secret Messenger, which is unquestionably alternative to WhatsApp message service. You can send the self-destruction messages using the Wickr and there will be no traced behind your message to track your private information.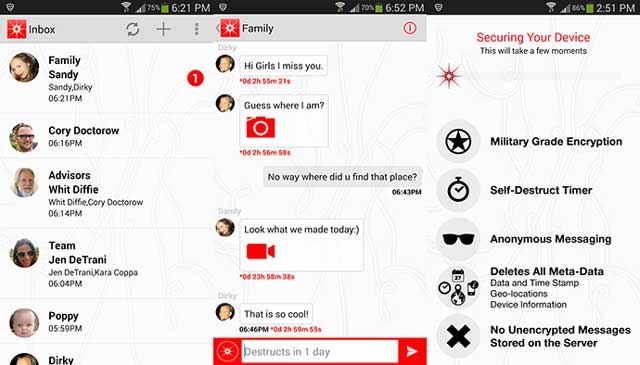 You can set the time limit when you send the message to others. If the person doesn't view then message in the stipulated time, the message will be self-destructed itself. And also, all message conversation has the end-end encryption with military-grade encryption (AES256,ECDH521,RSA4096 TLS), so that no can snoop into your conversation to know your information.
The messaging app Wickr also uses FIPS 140-2, HIPAA, exceeds NSA Suite B Compliancy, which provides top-secret communication. It is becoming the most trusted communication system in the world by giving power to the people.
Furthermore, wickr deletes all metadata from its communications and its Secure File Shredder cleans the RAM after each message or picture is open.
Wickr is available on iOS, Android
4. Kik
The Kik Chatting app is described as the "first smartphone messenger with a built-in browser." Kik has been used by more than 100 million users world-wide. This app has the feature that allows you to know when your message was delivered and read by your friend.
Furthermore, you can explore anything on the mobile web, without ever leaving the app. And with Kik-optimized mobile web pages, you can do more with your friends on Kik, like play games, and create and share fun content.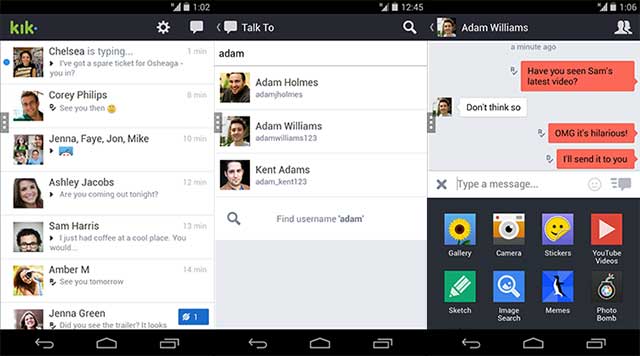 In addition, the Kik app is not using your Phone number as username. So that you have to create Kik identity to message with anyone.
The Whatsapp Alternative Kik app is available on iOS, Android, Windows Phone.
5. Tango
Tango is a fun, free messaging app that allows you to easily connect with friends & family or make new friends. Probably, It has more than 150 million users and provides the features like Line Messaging app.  In addition, You can make free voice calls, video calls and send instant messages to your friends and loved ones.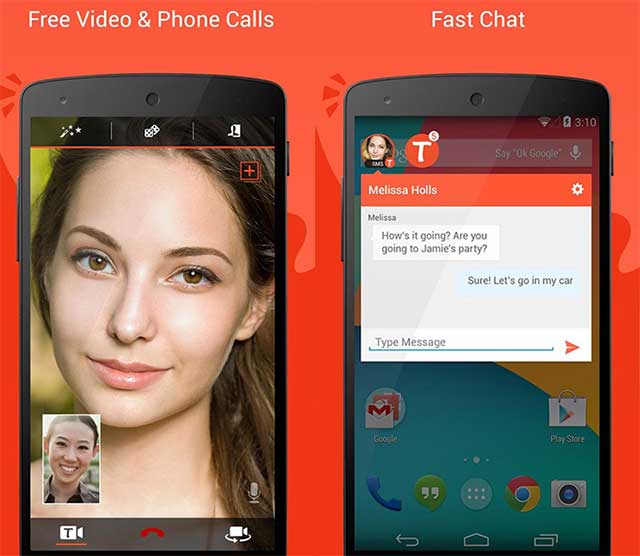 This messaging app offers many funny icons, pictures to make your conversation live. Make your account in seconds and Use this app to find your friends easily and start chatting. You can make 1 to 1 & Group Chat with up to 300 friends. Tango is pretty much like social messaging app, you can Challenge friends, send gifts, & climb leaderboards in over 30 Featured Games on Tango.
Tango is available on iOS, Android, Windows Phone
6. WeChat
WeChat is an another Great free messaging App for Android, iOS and other platforms. It has attracted the many users, after the Facebook bought the WhatsApp messenger. Now, it has more than 300 million users all over the World. Use WeChat for Free texting, voice messages, and video calls. Even in the slow internet connection, this messaging App provides Crystal clear voice and video calls.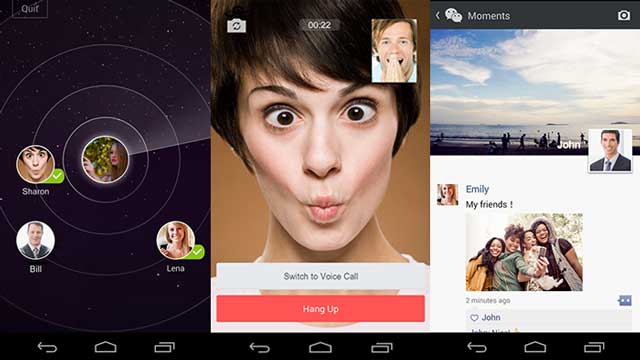 Use this App to Chat with your friends or with people nearby in your location. WeChat is cross-platform (Android, iPhone, BlackBerry, Windows Phone and Symbian) and it is developed by China's Tencent Holdings. It is available in many languages, including English, Spanish, Japanese, Korean, Chinese, Portuguese, Malay, Hindi and Russian.
WeChat is available on iOS, Android, Windows Phone and Blackberry
7. Viber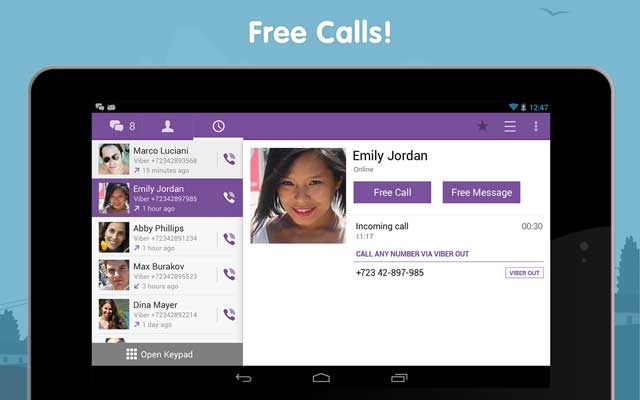 Viber is entered into the messaging service with the tag of direct Skype Compitior for free voice calling. Now it expanded into the Cross-platform messaging service and recently acquired by Rakuten, a Japanese electronic commerce and Internet-based company, for $900 million.
Viber is an application available across Android, iOS, BlackBerry, Windows Phone, Symbian and even Bada—and more which making it one of the most widely available messaging apps.
Viber is available on iOS, Android, Windows Phone and BlackBerry
8. BBM
Blackberry Messenger is the mother of All Messaging Apps. RIM has provided the BBM for its BlackBerry devices only before it was available to all platforms. The BlackBerry messenger users can send secure instant messages. Now, the messaging service has around 80 million users, the number should much more than that if it had launched the BBM to all users before.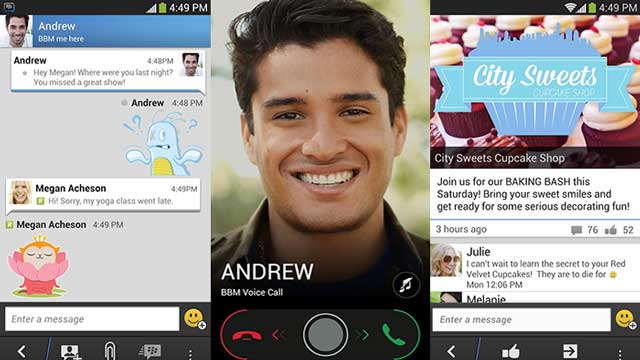 You can use this to make voice calls, share photos and video, send audio files.
BBM is available for BlackBerry, Android and iOS.
9. Hangouts

'Hangouts'  is the unified messaging service from Google. Finally, the Google has merged the different communication service products under the one name "Hangouts". The best feature of this Hangouts is the Cross platform support.
Don't have to left anyone when you arrange Hangout. You can connect with your friends even if they are in the different platforms like computer, Android, iOS. It is all possible in this new unified "Hangouts" messaging service.
Read More about Hangouts Here Google Launched new Unified Messaging Service "Hangouts" for Android,iOS and Chrome
10. Skype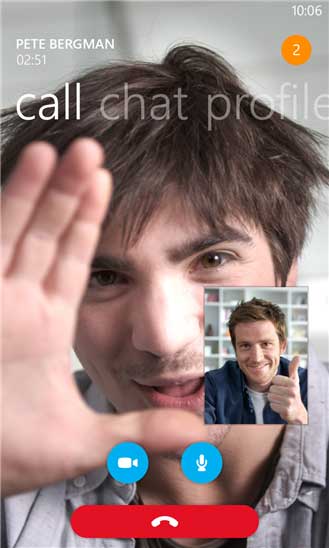 Skype hasn't need any introduction which is popular for Free Voip Calls and video calls. In addition, You can use this for Instant messaging too. After the Microsoft's acquisition , the Skype has been heavily integrated with Windows 10, Windows 8 Operating system and the Outlook email service.
Now Send Video Messages using Skype in Windows 7 and 8; New Feature Added
Wrap-Up
Like We said before, There are many messaging Apps with different features. However, there is no universal chat application with all features for users. You have to select the best messaging app based on your needs and interests. Select the best WhatsApp Alternatives Messaging App in this list and say your feedback in the comments.