These day people have tons of  audio and video files in their computer. Most of us find no time to organize those files by category wise in the structured folder  When you have to deal with large audio libraries, it is quite difficult to find a specific mp3 song or video to play. Do you want to solve these problems? You have to organize the music collection by their metadata tags such as creation date, genre, artists. After that, you can move them to separate folders according to these criteria.
What is MusicZen and How it is useful
MusicZen is a mp3 file organizer that will help you move or copy your music files from one location to another and along the way rename and place your files in a directory structure of your choice. You can use MusicZen to automatically organize the MP3 songs in separate folders based on your  criteria selection
MusicZen will not tag your music files; rather, it will read the existing tags in your .mp3 files and use this information to create the directories. If MusicZen Portable does not find any tag information, it will place the files in an "Unknown" folder.
Also Read: Best Free Online Music Streaming Services;Unlimited songs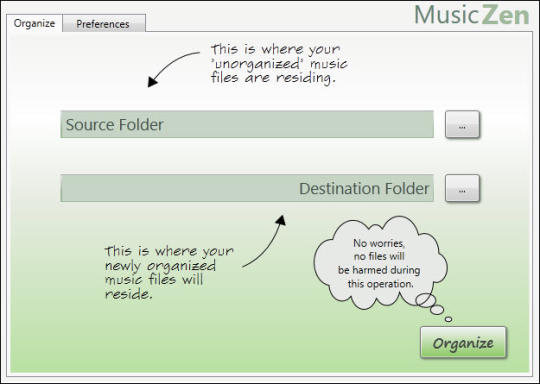 How to use this MusicZen to organize the MP3 Songs and Videos ?
The MusicZen interface has  two different tabs: Organize and Preferences. The first tab Organize allows you to select the source and destination folders for the music files, and provides you with a button to start the process.
The Preferences tab offers the options,  how  your music will be organized. You can choose whether to move the files from the source to the destination folder, or just copy them there.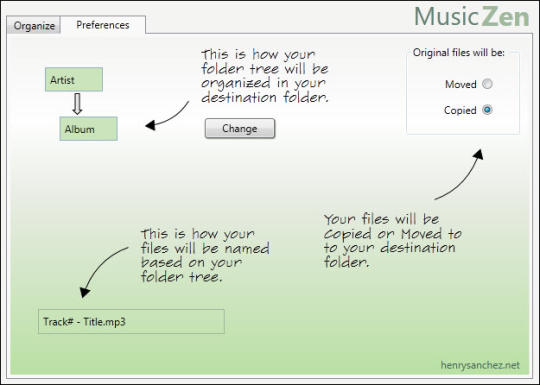 Just click the Change button to view all the available styles for folder tree structure and file renaming. After you have done this, go to organize tab and select the source and destination folders. Then Click the 'Organize'. That's it, your files will  be organized and sorted based on your selection. You can also store your organized music files in Google Play Music service for free and listen music anywhere and from any device.
Download MusicZen
If you are the music lover, MusicZen is the must have tool for you to organize the music collections easily. MusicZen supports both 32bit and 64bit computers of  Windows XP,Vista, Windows 7 and Windows 8.