Are you searching in the Internet  "How to change or Customize the Windows 8 Start Screen Background wallpaper image and background color for free" ?. Then you are in the right place. Yes,  Windows 8 Start Screen Customizer a small Windows tool created by 'Vhanla' , will customize your Windows 8 Start screen completely.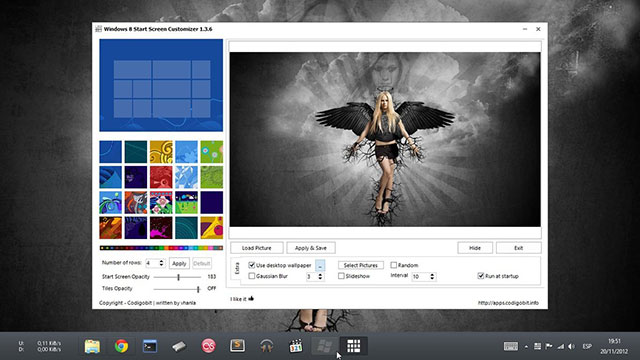 You might have known already that it is not possible to change the default Windows start screen background Image. There are many paid software will do the Start screen customization for you. But there are any other reliable Best Free Windows Software out there to do the job for you.
Customize the Background Look of the Windows 8 Start screen
Windows 8 Start Screen Customizer,  this tool that will change your Windows 8 Start Screen background picture. Just download this free software Archive. Extract the files and change the extension of the ModernUIstartecreen.ex_ to ModernUIstartecreen.exe. Then install it in your Windows 8 System.
In the Windows 8 Start screen customizer, click the load picture and select your desired Wallpapers to set in Windows 8 Start screen.
Other Features from this Windows 8 Start screen customizer
You can choose a picture and select the area to be shown as background picture.
You can set the StartScreen transparency (Get Aero Glass Transperency in Windows 8 )
You can set the rows of you tiles (limited by your screen resolution)
You can run it on startup hidden, so you can see your custom background as soon as this tool starts
Download Windows 8 Start screen Customizer
Download Link
Also read
The Best Windows 8 Start menu Alternative Software (Use this for Windows 7 also)
Improve the Speed and Performance and get Faster Booting in Windows 8 (Guide to Improve the speed of the computer)