If you are a Windows user for a sometime, possibly you might experience the Blue Screen of Death error. Are you wondering why it happens to my system often and What is the problem behind it?
Let me explain to you about this The BSOD (Blue Screen of Death). BSOD or Stop error or Dead Screen is the error screen will be shown to you when Windows OS encountering a critical error or non recoverable state. Obviously your computer will crash in that state. Normally the error screen is blue and so this problem got a name BSOD. Xbox users also got this problem "Green Screen of Death". You Guessed right. Xbox error screen is green.
Generally the Windows will save all the error details in the file  which is called "Dump file".  This file can be later used to assist the PC Technicians and troubleshooter to fix your system problem.
Best Way to Fix Blue Screen of Death Issue in Windows 10
Why the Blue Screen of Death Occurs?
Blue screen errors are happened because of the poorly written Device Drivers. For example, If you have attached a Printer in your system, device driver software will control it from your computer. If any error happens in the printer Driver software, the Blue Screen of death occurs. Also, It may occur bugs in the software kernel, faulty RAM and Power Supplies, Fan Speed and Temperature.
If the problem occurs, all Windows operating system vista, Windows 7 and Windows 8 display the Blue Screen of death error. However the Windows 8 operating system has a got a slight change in the error. Like Its predecessors, Windows 8 won't display advanced technical information. It simply shows that  the system needs to restart, the technical name of the error and a sad smiley 🙁
But this new less detailed screen won't help advanced users and expert technicians to know what causes this BSOD and so.
How to Get the Blue Screen error details?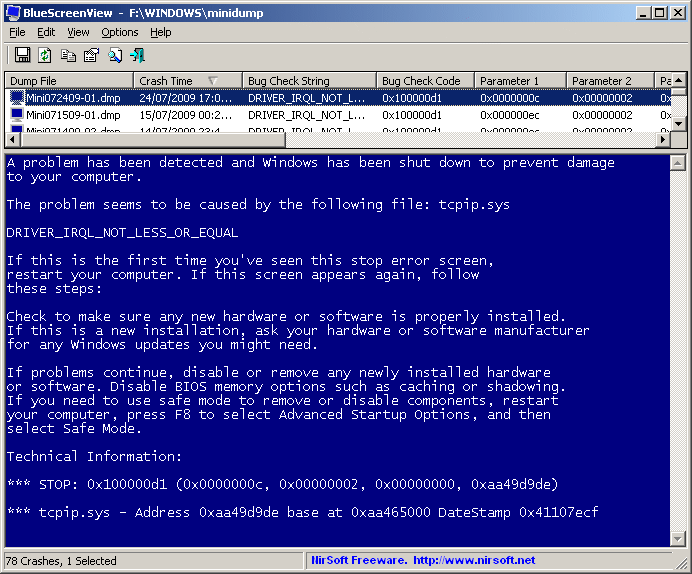 BlueScreenView is the tiny windows program that will scans all your minidump files created during 'blue screen of death' crashes and displays the information about all crashes in one table. This tiny will display much-needed details of  minidump filename, the date/time of the crash, the basic crash information displayed in the blue screen.
BlueScreen View has the simple user interface. It has two panes. Top pane will display each crash lists. When you click any of the error title in the top pane, the bottom pane will display full details of the blue screen error like Device Driver loaded that time and memory details etc.
The latest version of BlueScreenView: Crash Time' displays more accurate date/time of the crash.
It is much useful tool to know what happens to your computer when the blue screen of death occurs.
Also Read :  How to Repair Your Computer like PC Technician Using D7 Multi Tools with One Click