Web is one of the best technology that evolved in the modern World that brings the entire world in your big or tiny screen. Even though, the web may bring you the wealthy of information, you have to face annoyances like Pop-Ups, Content overlay and some other things.
These web annoyances are clearly visible to users when visiting websites. On the other side you will never know, your activities are tracked silently and some information gathered from you. You may ask, What should I do to avoid these web annoyances?
How it will Help You?
DO Not Disturb is the Chrome extension that will block all the annoying things on websites that interrupt your browsing experience. This Chrome Extension provides the features which will block the various types of activity that most users would find annoying, intrusive, or generally disruptive.
See Also : 25 Best Chrome Extensions and Apps
In addition, It also blocks the background processes that might cause the browser overhead due to data mining or user tracking. Lets see the full list of features that is available to you,
Potential Content Overlay.
Potential URL Hijack.
Content Widget.
Data Miner / Consumer Survey.
General Annoyance.
Prestitial Page Attempt.
Pop Up / Pop Under
You can see the above list of features, most of them doesn't need any explanation, however, like the Prestitial Page Attempt, Content Widget are unknown to many of us.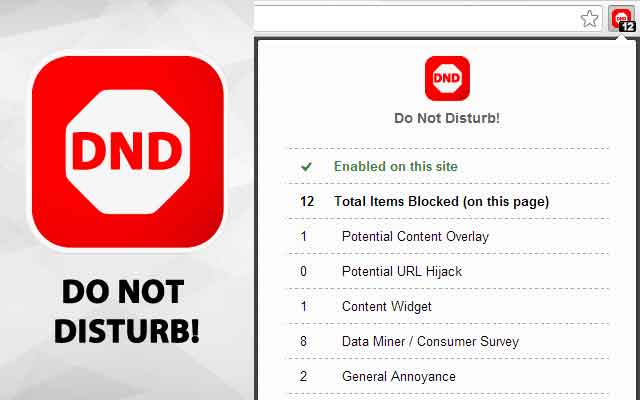 Prestitial term is related to Advertisements, those ads are full-page, dynamic flash ads which are floating around your webpage. You can see many related content widgets that will display the links from the other site, actually those links are ads. Using Do Not Disturb, you can block all those things without doing anything.
Also Read : 10 Best Addicting Google Chrome Games to Play in the Browser
Most of the time, Do Not Disturb works as advertised and blocks annoying web things. Though, it needs some improvements, it doesn't block all the annoying things.
Whitelist is also available in 'Do Not Disturb', you can use that to allow the good things or things you need in the webpage.
Do Not Disturb is a great Google Chrome extension that will help you to minimize the annoying things in the website. However, it doesn't block all the bad things. You can try this extension and know that it will satisfy your needs.