Do you want to repair your computer like Advanced PC Technician? We have got the D7 Computer Repair Multi tool for you to troubleshoot your PC automatically with one click.
D7 is a portable application designed for Advanced troubleshooters to fix all the computer related problems with automation.D7 is a powerful suite of free system utilities from Foolish IT, developed only for  pro PC technicians, Net Admins, and advanced users.
D7 has all the tools to fix the computer problems, also has the option to add your own Troubleshooting utilities in the interface. It has includes the fixes for all the common Windows problems like repairing Internet Explorer, Repair Permissions, PIO/DMA mode fix, Repair Windows Update and more. It also contains a good collection of Windows tweaks. D7 interface provides the wide range menus to access various system areas.
Read : 100+ Best Free Windows Software Programs Ever (Most useful, Worth Reading!)
Get the full Power of D7
D7 is the much advanced system repair tool. You will get a warning EULA message when you have opened the D7 application like  D7 can damage or kill your system. After you accept the EULA, one pop message will  show like "OK, you've been warned!". It shows that D7 is much more Advanced trouble shooters, so end users have to avoid this or should be extremely careful.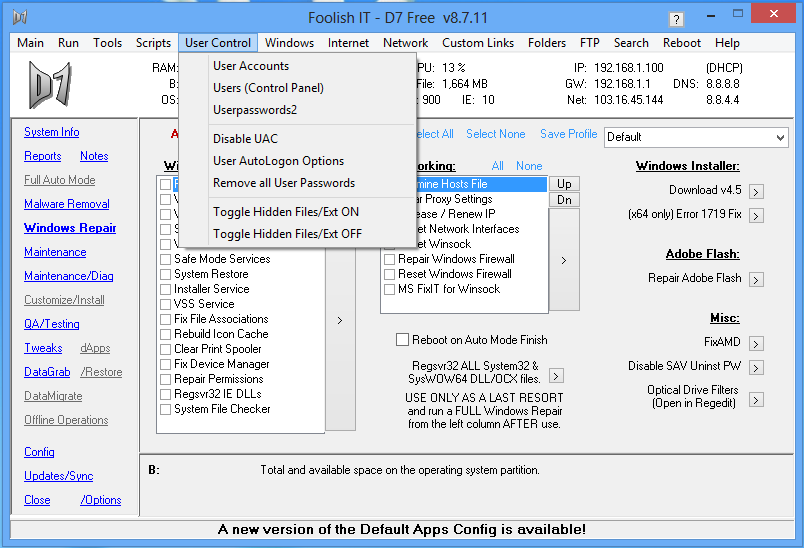 D7 integrates lots of terrific portable freeware from Piriform, NirSoft, Sysinternals, Virus Total and others.
Key Feature of D7:
Gives the complete System report for troubleshooter that is for you
D7 will do the tasks like scan, clean, repair, tweak, restore, customize, back up, update, maintain, and support single computers or networks.
Yo can access the registry Files, file system, hidden and super hidden files, disks and drives, archives, networks, clients using D7
Automatically Updates the Third Party Windows Software Applications
Automatically Runs the Third Party Windows Software
D7 is not the malware scanner or remover But You can control its behavior by whitelist/blacklist functionality to remove Malware. Also you can integrate Antivirus applications in D7
IP/DNS configuration + backup & restore
CPU/RAM stress testing
Numerous right-click context menu (in Windows Explorer) features for working with files and directories
Providing one-click automation for:
Virus / Malware Removal
Data Backup / Restore
System Info / Reporting
Keeping all of your tools updated!
Automatically updates installed third-party Windows application using Ketarin, a free tool D7 uses to check for and install updates for all third-party apps.
Automatically run 3rd party Windows tools like CCleaner, Defraggler to optimize Windows and clean your Temp Files, Empty Recycle Bin.
Overall, D7 is the powerful application with a lot of tweaks and tools. If you are an expert troubleshooter, it is a much-needed multi purpose tool like Swiss Army Knife. The inexperience and ignorance will kill your system, so use it with extra cautious.
Download Multi Purpose Repair Tool
Download: D7  V 10.4.31 6.9 MB (Freeware)