Many users download a lot from the Internet and invites the trouble to their system in forms of adware, toolbars, browser hijackers and other unwanted programs. If you download and install the Freeware applications, you should be extra careful before clicking the "Next" button. I used to download many New Windows freeware programs to review that, many times knowingly I've installed some toolbars in my system.  I've experienced the slowness and other unwanted actions from that crapware in my system and hence I've removed that using antivirus and antimalware apps.
In the search of the best free Windows Software programs, I've shared some useful programs previously. For example, That's why I've switched to Tixati a best uTorrent Client alternative which has no ads and toolbars and other potentially Unwanted Programs unlike uTorrent. Previously I've discussed about the best PuP and Adware removers, the AdwCleaner is a new addition to that list which is a great utility to have in your Software collection to remove all above potential threats from your PC.
What is it and How it will Help?
AdwCleaner is free lightweight and Portable Utility program that removes adware, toolbars, browser hijackers and other unwanted programs from Windows and safely installed browsers. By removing those programs you can get the best user experience and improved performance from your system.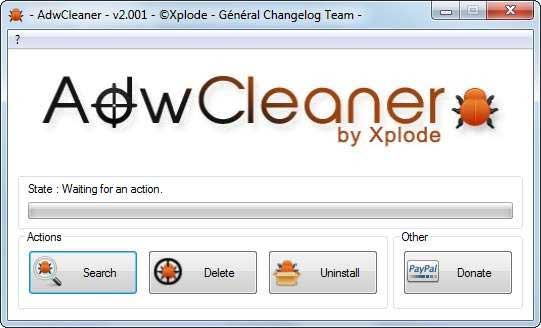 AdwCleaner has simple user interface with three functions: Search, Delete, Uninstall. Since It is a portable application, you don't need install it. Download and Launch it from everywhere.
After launching this Adware cleaner, use the scan function to completely scan your computer for potential unwanted programs. The end of scanning process will open the log file in the TXT format which you can see all the matching results ranked on the affected browser.
Just click the Delete button to remove those toolbars and other threats from your computer. The deletion may require restart. It removes the uTorrent Toolbar, Conduit Toolbar and other adware programs.
Tips to Avoid these Adware and Harmful Toolbar Installation in your system
Typically, these kind of unwanted programs are bundled with freeware and shareware applications downloaded from the web. These applications will install 3rd party toolbars and they change some settings in your system. For example, most this crapware will change the homepage of your browser and will slow down your internet browsing.
Follow these steps to avoid this programs
Download the Software from developer site or Trusted site like us(We always give developer site link)
When installing the software, don't click the next button very fast, read the information before clicking Next Button.
In the Installation process, If you found Toolbar and other software installation, uncheck them all to avoid that
Use Best Antivirus applications to prevent the installation of Adware.