Rovio, the Company behind the Angry birds Brand has now released the new 'Angry Birds Go!' racing game for the iOS devices in celebration of Angry Birds' fourth birthday.. Now, you can download this Angry Bird racing game for free to play. However, you can get more features by using the in-app-purchases.
Rovio brings the 3D kart racing game with the popular Angry birds in this games. Even the game has brought to you some of the popular characters from the Angry Birds series like pigs.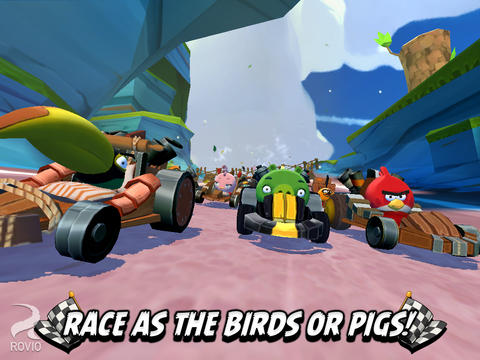 "Angry Birds Go" offers variety of game modes, various tracks, powerups and includes kart upgrades.
Welcome to downhill racing on Piggy Island! Feel the rush as you fling those freewheeling birds and piggies down the track at breakneck speed – with plenty of twists and turns in a thrilling race to the finish line! But beware! Look out for hazardous roads, mischievous opponents riding your tail and special powers to put the race leader behind the pack. Plus, go from soapbox car to supercar by upgrading your ride! Ready…Set…Angry Birds Go!
"Angry Birds Go" racing Game is the first ever 3D game and you can see your favorite Angry birds in 3D view with fantastic graphics and design. You can race as the Bird or Pig with the popular characters like Red, Chuck, Terence, Stella, King Pig, Moustache Pig.
Recommended Read: Best Free iPhone Apps Ever
How To Play the Angry Birds Go
To play the game, you can either use your touchscreen or your phone's accelerometer to steer.
Download Angry Birds Go
Angry Birds Go! is a free download for iOS devices, and also features in-app purchases.