Searching for the New Android Apps? In the series of finding the Best New Android apps, We have entered into the new month. We bring you the New Android Apps that has been released and updated in this month. We have roundup the 10 best New Android Apps of 2017 in this list.
There are many major Android Apps released this month like Angry birds epic, Sky force , Wikipedia beta and some other updates.
See Also: Top 20 New Best Android Apps and Games 
Top 20 Best New Android Apps of 2017
# Angry Birds Epic
The most popular Angry birds come with Angry Birds Epic. It is fully loaded with RPG, no, some other strange weapons! It is completely different from previous gameplay. You can find the Fancy Piggy islands with different locations like tribal villages, frosty mountains, tropical mountains and mysterious caves. All the greeny creatures are wearing funny costumes. There are more here, beat the pigs and become the piggy warrior.Upgrade your armors, weapons and lead in the epic battle!
# Sky Force 2014

Ten years ago, Sky Force is one of the Popular mobile game. Now, The game is developed for the today's smartphone with more style.  The game brings the classic arcade shooting with the modern trend. The game powers you to shoot tons of hours without the break. You can also play the Weekly tournaments against other Sky Force players. Play this game and celebrate the 10th anniversary.
# Parallels Access 2.0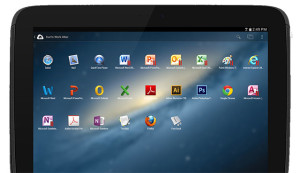 Run the Windows and Mac Applications in Android and iPhone using Parallels Access 2.0. You can also browse the files and photos from your computer in Android Phone from anywhere.
Parallels Access 2.0 Full Review
# CCleaner for Android
Finally, the best Windows Cleaner and optimizer Software "CCleaner" launched for Android Operating system. Use this App to speed up the Android Phone and reclaim your disk space. Use this app to clean call logs, App cache, temp files,download folders, browser history and more.
Full Review : Is CCleaner the Best Cleaning tool for Android?
Read: Best 5 Apps to Clean & Optimize to Increase the speed of Android Phones / Tablets
 # IDM Internet Download Magic
IDM Internet Download Magic is the Download Manger for Android Smartphones. It has the pause and resume Download Support. Using this Android Download manager, Download any type of files including APK, ZIP, RAR, MP3, Doc and other files. It has the smart download accelerator that provides the 5 times faster download speed.
# Lumosity

Lumosity is Android app that has many small games. Used to train your memory and attention. This app is designed by neuroscientists to train the brain. Use by more than 60 million people all over the world. Simply install, workout your brain and improve your memory power!
# FTBpro – The Soccer News App
FTBpro is the essential soccer app for every Soccer fan. Install this app to get latest breaking soccer news, transfer rumors, fixtures, results, tables, schedules, live scores, and more in your Android smartphone and tablet
See Also: 10 Best Soccer & Football Android Games, Live Scores Apps [Free]

# 1Password
Forget your passwords, 1Password will remember for you. 1Password creates and remembers the Strong and unique passwords for every site. With a single tap, you can login to any site which has the password in 1Password.
This app encrypts and keeps the passwords safe behind one master password. Also, it syncs with PC, Mac, iPhone and iPad. It uses tamper-proof Authenticated Encryption using AES-256 and Encrypt-then-MAC.
# Stubborn Trojan Killer
Is your Android Phone infected with Stubborn trojans? That trojans are hard to remove and steal your information, send auto SMS, damaging your device. To remove those dangerous programs, you need Tough fighter "Stubborn Trojan Killer". Use this Security Android App to remove malicious programs and protect your data and money.
See Also: 5 Best Free Antivirus Apps for Android [Security Review]
# Skoobe – the digital library
Install the Skoope and enter into the digital library. You can read any e-books anywhere when you have the Skoobe. This app is free to download, pay the small subscription fee to read the books from any popular authors. New books are added weekly. You can also read the e-books in offline mode.
# Summoners War: Sky Arena

Enter into the epic battle of RPG, beat monsters and get the crown. Over 400 monsters to beat and collect in the battle. Stunning graphics with crystal clear sound that will give you the stunning battle experience. Other that this, you can decorate your village and train monsters and beat other Summoners.
# Orange is the New App
Netlflix has introduced the "Orange is the New" app which is essentially the photo sharing app. They have launched this app to promote their new series "Orange is the New black". Using this app, You can share your photos with different cards and messages, even you cab replace the character heads with your face, friend's face. Within the few days of launch, it has been downloaded 10,000 to 50,00 times.

# Break Bricks
"Break bricks" is the familiar Arcade game with complex levels. It has the fresh challenges with new gameplay. It is built on the classic game with a modern idea. Break the bricks the using the balls with the help of walls.
# Private Chef – Look & Cook
Get the Private Chef – Look & Cook, and be the Master in Cooking. It is the most beautiful Cooking Android App in the Play store. Features Awesome Food photography, Step-by-Step Cooking guide, Amazing HD video. Want to make delicious recipes, get the detailed guide in Look & Cook. You can get more features with in-app-purchases.
# Red Bull Wallpapers

Decorate your Android Home scree and lock screen with astounding Wallpapers from Red Bull Athletes. Many breath-taking Sports Wallpapers and backgrounds to get the unique style in Android Phone. DayDream support for animated wallpapers. These High-Quality Live Wallpapers and HD backgrounds are free to use. Install this best Android Wallpaper app to catch many eyeballs.

# Rival Knights
Want to be a middle age Warrior? Play the Rival Knights. Experience the fast paced, visually stunning combat game. Compete with 1000's of other knights in online. Gameloft is the developer of this fantasy adventure game.
# EndlessTV: Videos, TV and News
Watch live streaming of your favorite TV Channels, TV shows, celebrity gossips and news. It also has the Chromecast support that allows you to stream videos from your TV. Unlike other live streaming Video apps, EndlessTV will stream the video without any delay and lag. After the installation tap the Trending icon to get the popular videos right now. Tap the Add channel to add your favorite and popular channels in the Home screen of Endless TV.

# Fruit Splash Mania
Play the new Addictive Puzzle game Fruit Splash mania from the makers of Candy blast mania. Play the 120+ levels with fruits of berries, lemons and Watermelons.
# Elevate – Brain Training
Like Lumosity, Elevate has been designed with the help of neuroscience technology, Cognitive learning and extensive scientific research.
Improve your brain power, cognitive skills and mind focus with this app. It has 15 games to improve critical skills like focus, processing, precision, and comprehension. It also tracks your performance daily to know your improvement.
# Wikipedia beta
Wikipedia beta updated with major design tweak. The App is faster than before, you can browse, search and read the articles without nay delay or whatsoever. Wikipedia zero support allows you to browse the Wiki with minimum data charges. Wiki beta can be installed along with the Stable Wikipedia app.
# SimplyText SMS Text Messaging
SimpeText is the messaging app to replace the Stock messaging app. It has the simple, clean Interface without any clutter. It has some other features like Quick reply Window, Smart Texter, snooze texts. Using smart texter, compose the message quickly for 3 people who text often.