Convert FLAC to MP3 in Windows, Mac and Online for Free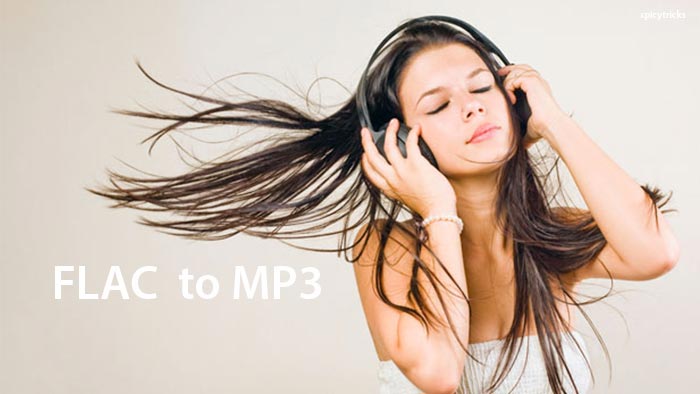 FLAC is a Codec, stands for Free Lossless Audio Codec. It is used to convert that is compress Audio files losslessly to a smaller size without compromising quality of the Music. FLAC Algorithm reduces the digital music up to  50–60% of its original size.
FLAC is an Open format and freely distributed, and it is way better audio Codec when you compared with MP3 , AAC in terms of quality. You can compress your huge audio files to smaller ones when you need portability with this FLAC format.  FLAC format is supported by most media players, but many portable players don't support the FLAC format. In this situation, the only way to play FLAC files, you have to convert FLAC to MP3 Format to play in your portable player. The main advantage of FLAC is, you will never loss any audio quality when you convert FLAC to MP3 or other formats.
Recommended Read: Best Free Video Converter to Convert Movies for Viewing in Smartphone
Here, I'll show you how to convert FLAC to MP3 format in Windows, Mac OSX and using free online converter.
1.How To Convert FLAC to MP3 in Windows
Many Free FLAC converters are available in the Internet, but here we choose the "Free Studio Manager" and "Super" for converting the FLAC Files to MP3 files.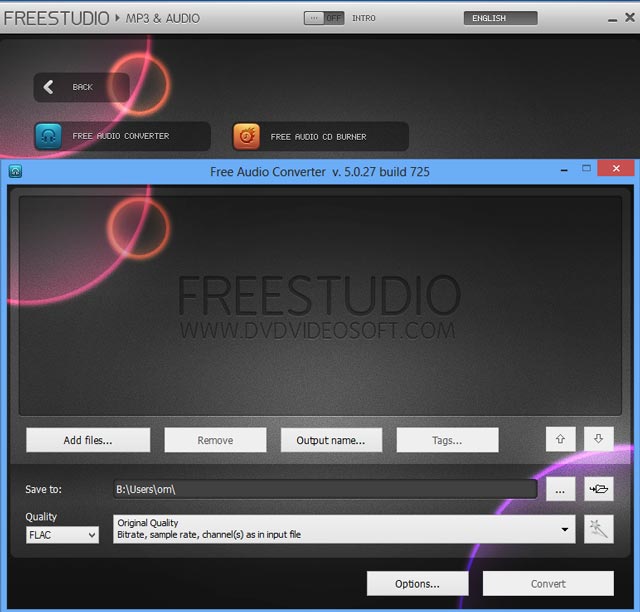 The Free Studio Manager and Super are the two best Audio Converters. Also,the two applications offer more features like Video converting and playing RARE Audio files that even VLC and other media players don't play them. In this post, I'll show you, how to use Free Studio Manager to Covert FLAC file format.
Also Read:  Best Free  Music  Audio/Mp3 Players, Organizers and Managers and Editors, Convertors for Windows 8 and 7
Download and install Free Studio Manger. It may take a while since It has many features other than converting
Launch the Free Studio Manager. The Initial interface will show you all tools that Free Studio offers.
Now Click the MP3 and Audio and choose the Free Audio Converter. It will launch the Audio Converter tool.
Next, Selec the "MP3 format" in the Quality dropdown options and set the Output folder to save the file.
Click the Add Files button and choose the FLAC file and hit the "Convert" button.
Also, you can convert any file format to FLAC by choosing the FLAC in the Quality section.
Now, you can listen the FLAC file format in the Portable players and any unsupported players using the above process.
2. How To Convert FLAC to MP3 in Mac OSX
In Mac OS X, you can use the free MP3 Converter "All2Mp3" which supports a wide range of Audio formats. You can use this converter to convert FLAC format to MP3 Format in Mac OS X.
Also Read:  Best Free  Music  Audio/Mp3 Players, Organizers and Managers and Editors, Convertors for MAC OS X
Download the ALL2MP3 from developer website. Ues WinRAR or 7-zip to decompress and extract the Application file.

Launch the ALL2MP3. Use Drag and Drop method to add the FLAC files in the app. Also, you can use the add button to add FLAC files in the converter
Then, Choose the Audio quality such as  Less, Middle, Good, Super
Finally, Click the Convert button, the pop-up box will show you the progress and the converted files will be stored in your Original file folder.
3. Free Online Converter to Convert FLAC to Mp3
Zamzar is free online audio converter service that supports many Audio, video and image file formats. You can use this service to convert nearly any file formats.

To convert the FLAC to MP3 file format using this free online converter, follow the steps below.
Open the Zamzar Homepage and click the choose file option to select the FLAC file.
In the step2, select the file format you wanted to convert that is here Mp3.
In the step3, enter your email address to receive the converted file in your inbox
In the final step, click convert and download the file in your Inbox.