Mozilla the Team behind the Firefox has released the new version of Firefox 29. The latest version of Firefox has got a major makeover, brings the new design and many new features. Firefox has got the new design like a Google chrome browser that is you can customize the Firefox even further now.
Mozilla has claimed the Firefox 29 is the most customizable version of the browser ever. Mozilla has includes the 1300 changes in the Firefox 29. This latest version of Firefox got the new menu,  customization mode and an enhanced Firefox Sync service. The menu now has Customize tool that allows you to add and remove any feature, service and add-on.
Must Read : 25 Best Firefox Add-ons; Popular and Useful for All
The user interface of the Firefox 29 is much similar to the Google Chrome Interface. You can get redesigned tabs and a new hamburger menu icon at the top right corner that offers touch-friendly, controls for various settings.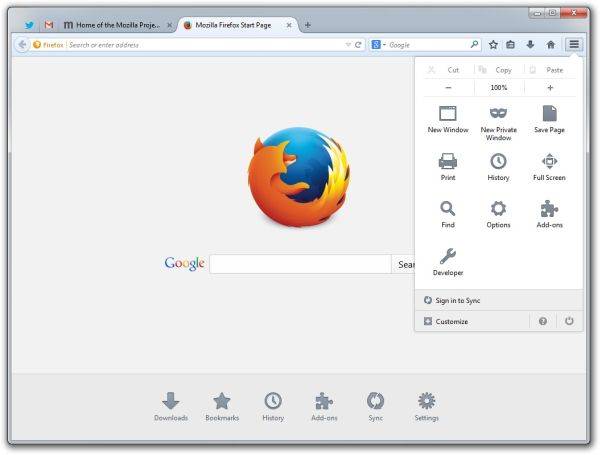 Once The Firefox is the top browser in the market share and most popular browser in the world, because it offers many features, most useful Add-ons. Now, Google Chrome has got this number one position and attained the large userbase. You can also get many  best Google Chrome extensions to extend the functionality of the browser. To regain the numero one position, Mozilla has tweaked their design and produced the much simpler yet feature rich user interface like chrome.
Firefox Sync service provides the user to sync their browsing history, saved passwords, bookmarks, open tabs and form data with their computers and Android devices. Simply create the Firefox account to get these sync services in your various devices. Now, you can get the desktop bookmarks in your Android device, even the form data will be synced, you don't need to re-enter those details in your hand-held device.
Firefox 29 has also got the improved bookmarking capability, now, you can easily the add the bookmark and organize them in the bookmark manager. Now, Firefox 29 also supports WebRTC which supports video calls and other features with browser itself.
Download Firefox
You can download the latest version of Firefox in Mozilla download section. If you have already installed the browser, you can update it to the latest version from your browser about page.