Internet Offers vast amount of information. You can learn anything virtually on the web with the power of Google and Wikipedia etc. Unfortunately the web also brings the inaccurate and misinformation to us. However, There are many Good people are working with a goal of changing the education for better by providing Free World Class Education to all.
Khan Academy has such a goal and brings the informative to content which can be easily accessible to anyone. This non-profit organization founded by Sal Khan in 2008. No matter If you are a student, teacher, home-schooler or a friendly alien, all the resources are available to you completely free of charge.
"I teach the way that I wish I was taught. The lectures are coming from me, an actual human being who is fascinated by the world around him."
—Sal
Khan Academy provides video based library. You can study the subjects visually to understand better. Currently Library has over 4100 videos which covers many topics includes biology, chemistry, and physics, and even finance and history. All the videos are approximately 10 minutes long and can be understandable easily.
See the video of  What it means to buy a company's stock from Khan Academy
How to get this Free World Class Education to your Devices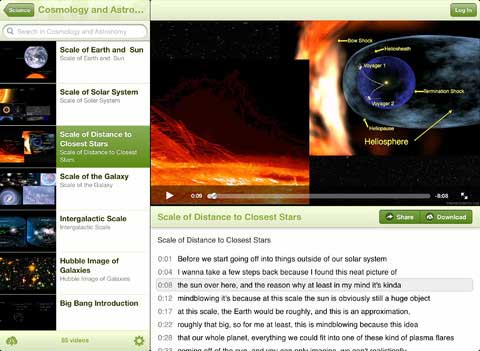 Khan Academy's library can be accessed from their official website from your computer. If you have iOS Devices like iPhone, iPad and iPad Mini, you can download the Official Khan Academy App from App store. Currently there is no Official Khan Academy Android app to get the World Class Education in your Android device. But there is some unofficial Android Apps are available in the Play Store.
To access all the library of videos you need Internet connection. But What If you have no internet Connection want free education, there is an application KA Lite available for offline users. It provides the offline  access to Academy videos and exercises.
Download Khan Academy Videos For Offline Access
iPhone and iPad users can download single or the full playlists of videos for offline access from the app.
Download Khan Academy App for iOS Users