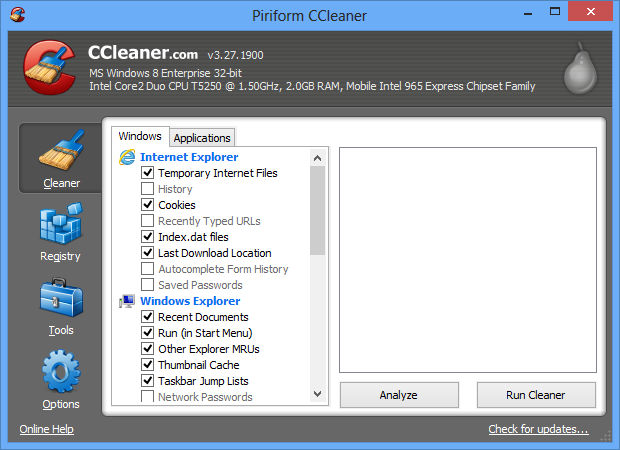 CCleaner is a freeware system optimization, privacy and cleaning tool. It removes unused files from your system – allowing Windows to run faster and freeing up valuable hard disk space. It also cleans traces of your online activities such as your Internet history. Additionally it contains a fully featured registry cleaner. But the best part is that it's fast (normally taking less than a second to run) and FREE!
Cleans the following:
Internet Explorer
Firefox
Google Chrome
Opera
Safari
Windows – Recycle Bin, Recent Documents, Temporary files and Log files.
Registry cleaner
Third-party applications
CCleaner v3.27 comes with support for Windows 8, Google Chrome and Mozilla Firefox and IE 10. By using this tool you can clean your temporary files in your system and also you can reduce the memory of  Windows registry by deleting the Garbage files.
And also CCleaner offers tools like Startup Monitor, Application uninstaller and System Restore cleaner. By using this tools you can get improved and speed up  in the Windows 8 and Windows 7  computer Startup time and much faster system Performance.
What's new in this version (Release Notes V 3.27):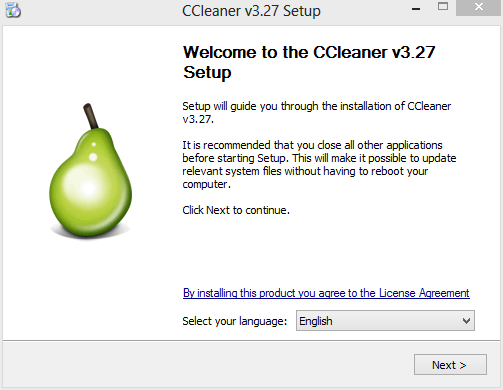 Added cleaning for Internet Explorer Metro Cache.
Added cleaning for Internet Explorer Metro History.
Added Google Chrome v24 support.
Improved Firefox compatibility on v17 and newer.
Improved Google Chrome extension compatibility.
Improved Unicode text support.
Added Burmese translation.
Minor GUI improvements.
Minor bug fixes.
Download: CCleaner 3.27.1900  3.99 MB Free