Here I've shared the Working Tips to Make YouTube Videos load faster. It is very annoying thing when you watch YouTube Videos on Slow Internet Connection. YouTube pages load up a lot of code and options usually, making the page heavy and your favorite YouTube videos take time to start as the page loads.
You can enable YouTube feather and make YouTube Videos load faster over your slow internet connection.
Also Read: Best 5 Free Online Music Video streaming Services ; Listen Unlimited Songs
Google's List: Top 20 Most Watched YouTube Videos
Recommended: How To Speedup YouTube Videos Buffer Speed for Slow Internet Connections
Tips To load YouTube Videos Faster (Avoid Buffering and Loading Screen)
#1 . Switch to Good Web Browser:
Browse the YouTube Videos in modern Web browsers like Google Chrome, Firefox or Opera. If your default browsers is Internet Explorer, then try to change it another one mentioned above. Best 6 Internet Browsers for Windows 10, Mac, Linux
#2 . Try Watching Videos at Lower Quality
Many YouTube videos offers different quality versions like 240p,360p,480p,720p. If you are having slow internet connection then Try loading the 280p version to load YouTube Videos faster.
For slow Internet users, YouTube has introduced the 144p video quality stream. Very low-bandwidth 144p Video quality mode to attract and help slow internet connection users.
Read more here : How to get this new 144p YouTube Videos
#3 . Stop other Internet Activities
Just for a while Close all other Internet accessing programs like torrent clients when you browse YouTube videos. Also stop browsing the web pages to make the Videos load faster and enjoy the uninterrupted streaming and loading.
#4 . Load Videos Fast on YouTube with YouTube Feather
YouTube does have an alternative version which has been in beta test for some time called YouTube Feather, which promises to serve YouTube video pages with the lowest latency possible. It removes lots of optional interactive and sharing features in the YouTube video and uses advanced code to reduce the page download size so it loads much faster in your slow internet connection. Join the "Feather" Beta.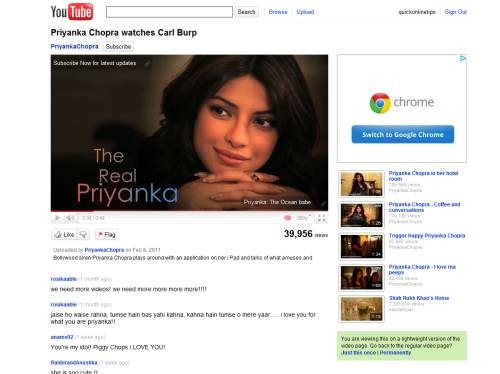 I tried YouTube Feather, and have never switched back at all. Its light, its fast, its clean – just like you want it.If you want to enable this option permanently ,click the "permanently" option and watch YouTube videos all time faster always using the lighter version.If you want to go back to Original version click the option "Just This Once"

#5 . Increase the performance and speed of the computer to improve the browser speed and its browsing performance.
#6. This tip is for Google Chrome users. Is there any Workaround to watch my favorite YouTube Videos without any Trouble? SmartVideo is the extension for Google Chrome which provides better control over YouTube buffering, quality and playing options.
Share your Thoughts about this YouTube Guide to load videos faster in the comments section.
Make sure to checkout this article : How to Load YouTube Videos Faster in Your Android Device + More