YouTube has improved a lot over the years after the acquisition by Google. And It has Huge number of users than any other video sharing sites. It has reached 1 Billion active users an every month. Recent days, YouTube has got some new features and Design changes to improve the user experience bit further.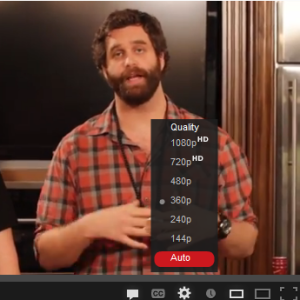 Now Google introduced the very low-bandwidth 144p Video quality mode to attract and help slow internet connection users. YouTube has flood videos in every category, you can find any videos it may be for your education, News, Business and Entertainment. At least you need 384Kbps bandwidth speed to watch 240p quality YouTube videos without interruptions and buffering in your system.
How to get this new  144p YouTube Videos
Google not yet officially announced this new 144p video quality mode. So Still  there is a Question mark whether this feature is going to be available in future or not. As of now this new 144p videos are not available for all videos and also not enabled for all YouTube users. You can get this 144p video in YouTube player speed menu if it is available for you.
Currently YouTube has hosted the video qualities between 240p to 4k, and this pixel resolutions provide some decent quality to enjoy videos. In 144p videos won't provide the great viewing experience in desktops or larger screens. It is only suitable for small screen devices to get the clear picture because those videos are very low in quality.
There is no doubt that it will reach number of audience. I think most of the users will never go to this resolution but still it makes good options for some good amount of people : Something is better than nothing.