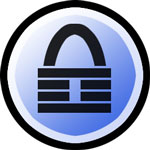 KeePass is my personal favorite password manager to keep my password safe in the wallet. Many of internet has users have multiple online user accounts to access every sites whether it is social websites like Facebook or Financial websites. Multiple accounts need different passwords(Using a single password for all sites aren't safe) to access their services. You have to remember each and every password and usernames to login to your account. Keeping and memorizing  many passwords is not that easy as you think. So that password managers are real saviours for all of us in terms keeping your all passwords.
Mus Have: Top 5 Best Free Password Managers to Keep the Password safe
KeePass is a free open source password manager, that helps you to manage your all passwords in a secure way. You can keep your all your passwords in KeePass database by categorically such as Windows passwords, network, banking, and so on. You can use one Master Password to unlock the database or using a key file.
KeePass databases are encrypted with strong AES and Twofish ciphers. You can fill your online passwords using chrome and Firefox Plugins.
Now KeePass  releases the stable KeePass v2.22. it features integration and data exchange enhancements, user interface improvements, and various other minor new features and improvements
What is new in KeePass 2.22
KeepPass 2.22 has come up with significant updates with more features. Now it has supports for third-party password mangers. That is you can import all data from safeWallet 3.0.4 and 3.0.4  XML Files files, TurboPasswords 5.0.1 CSV files. And has improved LastPass CSV importer now supports group trees.
Added 'View' -> 'Grouping in Entry List' menu  allows you to sort and group your account lists. This update doesn't feature any security enhancements, still updating to the later version is good practice.