Microsoft has come with new modern design in Windows 8. It includes metro style user interface and much criticized Start Screen. However, there is no significant improvement in the desktop mode except few design changes. The few enhancements in the Windows 8 design have removed the start orb button, Aero Glass Transparency effects removed (You can get hidden Windows 8 Aero Glass Transparency).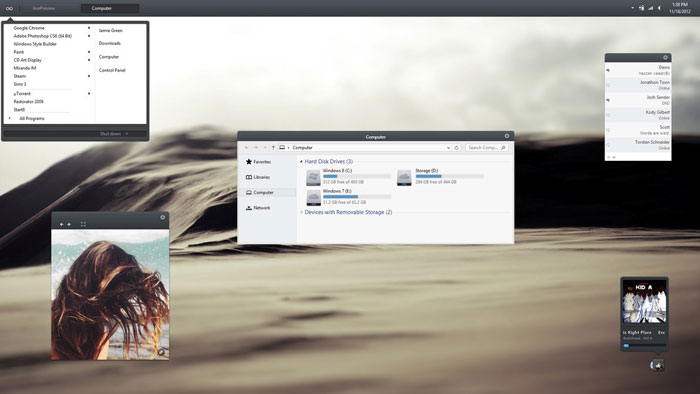 Microsoft has introduced new *.deskthemepack file format for Windows 8 Themes which has new 360* panoramic Windows 8 Themes and only supports Windows 8 and no backward compatibility for Windows 7. But we have found a new tool to install this new Windows 8 Theme .deskthemepack files in Windows 7.
As usual Windows 8 also has no support unsigned custom third-party Windows 8 Themes. If you want to install fresh and beautiful windows 8 themes, visual styles and Skin pack for Windows 8, then you have to patch system files   themeui.dll, UXInit.dll and uxtheme.dll on Windows 8. Advanced users can patch the system file manually with ease, but normal users, it could be a difficult task, and they might break the system if they do it wrong. So that I suggest you to download the  Windows 8 in an experimental version of UxStyle . And other option to that is Ultra UX Theme Patcher.
UxStyle is automatic system theme file patcher and worked as a Windows service. So It doesn't modify your original system files of your operating system. Instead of that, it changes the particular windows file in system RAM memory. Unlike manual patch, It is safe for you to update your system from Windows update with any headache, since you are not modifying the system files.
How to Enable Third Party themes in Windows 8
To enable third-party Windows 8 themes in your system, you have to store it in the Windows theme folder. If you have installed your Windows 8 in Local disk c, then it should reside in the  B:WindowsResourcesThemes. 

Note : You can also open theme folder using Run Command, Just type Resources in the run command and press enter to open resources folder. There you can find a theme folder.
Copy and paste the .theme files or visual styles in the theme folder and open it. Windows personalize manager will install your new custom theme.
That's it. We will bring you the top Windows 8 Themes soon, so keep visit and subscribe to our newsletter.
Before that checkout our Awesome Windows 8 Themes here.