Windows 8 has been heavily criticized for its many new features like Start Screen and Metro UI. Microsoft has come up with Windows 8.1 to satisfy the Windows 8 users with many wanted features and further Improvement. According to the recent traffic report, Windows 8 is world's most third popular Operating system, just behind windows 7 and XP.
However, most users like the new start screen that shows the live Tiles and Tiles of  Modern Apps with Desktop applications.  In Windows 8.1, Microsoft has introduced the custom Tiles options, that is you can create stylish custom Tiles with many sizes. You can achieve this custom Tile Feature in Windows using "Custom Tiles Maker" Application.
Read :  Top 20 Best Windows 8 Apps [Must Have]
See also : Top 10 Windows 8 Games App in Windows Store
How it useful?
Custom Tiles maker is a Windows 8 Application that makes your Windows 8 Start screen even more beautiful and awesome look. It allows you to select one or more images to be divided into up to six individual blocks, you can get a visually pleasing screen.
How to Make Custom Tiles in windows 8?
First, Download the Custom Tiles Maker from Windows store and install it in your Windows 8 computer. Launch the Custom Tiles Maker from you StartScreen.  The app shows the options like Simple Tiles, Random Tiles and Change Tiles. Here, we'll show you how to create simple tiles, the same process can be applied for random tiles too.
1. Click 'Simple Tiles' and it will display tile customization screen. Now, Hit select Photo to choose the image that will be displayed in the StartScreen Tile. Choose your favorite by browsing your image location.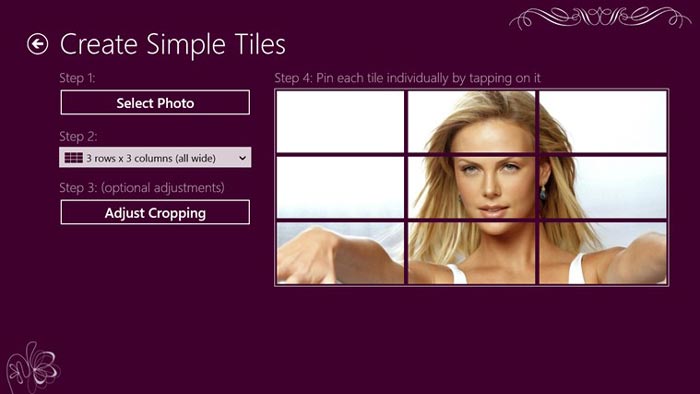 2. In step 2, you can define how many tiles do you wan to show the image. You can choose the combinations like 3×3 , 3×2 etc.
3.After choosing the best layout for you, you can crop the image to fit the screen perfectly. Also, you can name the group of tiles
The Personalized tiles are best to access your programs easily and organized manner.
Like this, you can create many tiles using Random Tiles option in Custom Tile maker. Try this app to get stunning start screen in your Windows 8.
See Also: 30+ Most Useful Tips to Improve Your Windows 8 Productivity