In the past, We've discussed about various Security applications and Firewall Programs to secure your computer and your Privacy. PeerBlock is the one of the Security Tool that helps you to protect your computer from bad IP Addresses and computers. Yes! The PeerBlock is like a Firewall Application that provides the Advanced IP Blocking Technology to block blacklisted servers and IP Addresses.
See Also : How to Secure Your Computer By Blocking Dangerous IP Addresses Automatically
Also Read: How to Hide My Real Public IP Address? And Why?
What is It and How it will Help Me
PeerBlock is the Open source Firewall Application which controls how your PC Interacts with other computer over the Internet. So, Your computer will be kept safe by blocking the dangerous sites and troublesome servers with the Help of PeerBlock.
This Open source IP Blocking Software gives you the options to block the IP Addresses that is you can create your own list and import them or choose the default blocking options in the Interface. So you can manually block any IP Address in your Windows Computer.
After the installation, when you run the application for the time, it will open the setup wizard interface to choose the options for the program. These options include what do you want to block: Ads, tracking programs, P2P, Spyware, Adware, Educational Institutions and universities.
Also, you can create you own IP Blacklist and import them to PeerBlock application to block them in your computer.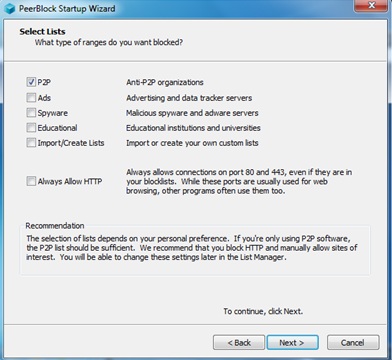 Peerblock Interface layout is very simple. it has only two Tabs: Protection and Settings.You can control the Peerblock from the System Tray icon. Right click on the system Tray icon will open the main window and Left click will show you the options like enable/disable, allow HTTP,and support.
Recommended : How To Secure Your Wi-Fi Network Connection from Hackers and Neighbours
Conclusion and Download PeerBlock
Peerblock is the light-weight portable firewall application. It does the job perfectly by blocking the Harmful IP addresses and sites. It is highly recommended for any Internet user.
It adds support for 32- and 64-bit Windows Vista, Windows 7, and Windows 8