DesktopOK is tiny Windows application that can save and restore your windows desktop icons positions. So it's a handy solution for you to get your favorite layout always even you have change your screen resolution.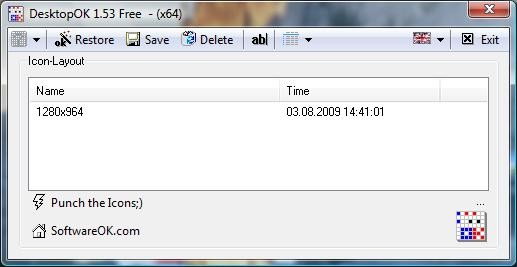 DesktopOK is a portable windows application, you don't need to install this freeware. Just download the zip file and extract it and run it in your windows. The user interface of this app is very simple which has save, restore and Delete buttons. Those buttons will help you to save your current Desktop Icon positions and also you can save multiple layouts of Desktop Icon positions in this application. The multiple layouts could help you in the situations like if you regularly switch between the external monitor and your Laptop.
Awesome Post for you : 100+ Best Free Softwares for Windows, most useful
How to Use the DesktopOK
Simply click the Save button to save the current arrangement of icons and Restore to fix them after they've become disorganized.
Each user in your computer can create different icon position layout. So if another user use your same computer account, then he/she can restore their Desktop icon position layout. It's pretty cool! now you won't have the messy and clutter desktop to any further extent.
You don't have to run this application all the time, just open this app whenever you want to save and restore your Desktop icon layout. And also, DesktopOK does not have to be installed and can be executed easily from the desktop, and can be carried on a small USB-stick or other memory device.
This application works well in my Windows 7, however when I've tested it in Windows 8, it didn't work.
Price : Free